Cooking Workshop with Ottoman Cuisine Chef
Cooking Workshop with Ottoman Cuisine Chef
We will enjoy our Half Day experience, and learn how Ottoman Family spends their time on the table.
Duration: 2 Hrs 15 Mins
Live Guide: English

Highlights
Take a half day course for an amazing journey through the Turkish culture and cuisine
Enjoy our fresh prepared meals for lunch or dinner
Full Description
The Turkish and Ottoman Cuisine is one of the richest kitchens of the world which synthesizes the Anatolian and Middle East meals. The main reason that we see the wealth is the Ottoman Empire's conservator behaves over the lands where they conquered. They always tried to save the places, monuments, lands a beautiful history and developed with additional contributions. It happens to be the same to taste local foods and dishes. So, we will split our day and spend half-day on a delicious journey to the kitchen of the Ottoman Dynasty. You will forget where they lived what they did etc. Now it is the time that they get tasted. You will see their routine meals are fests for ordinary people.
So, now we will roll up and begin to prepare a three-course Ottoman Style menu including historical cuisine in a traditional Turkish home, then enjoy with these meals on lunch or dinner. Of course, we did not forget the refreshing drinks and Turkish Coffee. The dates and names written underneath the different dishes refer to the historical written sources the recipes were taken from. APPETIZER Stuffed Vine Leaves with Sour Cherries (1844) Sailor's Roll – Rolled pastry with cheese and peas served with honey Main Course Stuffed Quince - Oven-baked quince stuffed with minced lamb, veal, rice, pine nuts, and currants or Kavun Dolması / Stuffed Melon (15th Century) Cored melon stuffed with mincemeat, baked with rice, herbs, almonds, currants, and pistachio.
Photos
Includes
The Meal
Drinks
Turkish Coffee
-
Meeting point
Deraliye Restaurant
Location
Know Before You Go
About your Host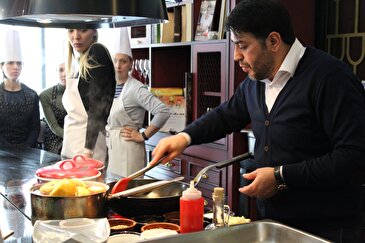 Necati Yılmaz
In the heart of Old Istanbul, next to Hagia Sophia and a few steps from Topkapı Palace, Deraliye Restaurant offers a selection of dishes that used to be served at the court of the Ottoman Empire.
read more
---
Customer Reviews
8.67 Excellent Based on 3 reviews
Kristy - July 28, 2019
After my 45 age i can change my job after i joined this tour. I think i will not like my wife s meals when we are back to our home. :))
Guy - July 11, 2019
A well choosen menu. Good chef. I got a lot of tips from him for cooking. Let the God forgive me for the things that i will do in our kitchen when i return to my country.
Arlene - April 22, 2019
There was Stuffed Melon in menu. Interesting thing. I have never tasted sweet and salty in same time. If you are open new tastes you can join the class. Listen the directions carefully. Otherwise you can do a fruite salat with meat. Ahahaha.