The main historical places you can visit in Istanbul are mosques and hammams built by the great Architect Sinan. Some of the most well-known buildings and mosques that he made are as follows: Suleymaniye Mosque, Selimiye Mosque, Topkapı Palace, The Old Bridge, and many more.
However, alongside all the mosques, he was also responsible for building bridges around Istanbul, not figuratively but literally. He created precisely 35 aqueduct bridges around Turkey. We'll be looking at the legacy left by the Architect Sinan more closely, listing the buildings and historical places to visit in Istanbul and answering the question; what are things to do in Istanbul? Let's start with the first thing you should do when travelling to Istanbul.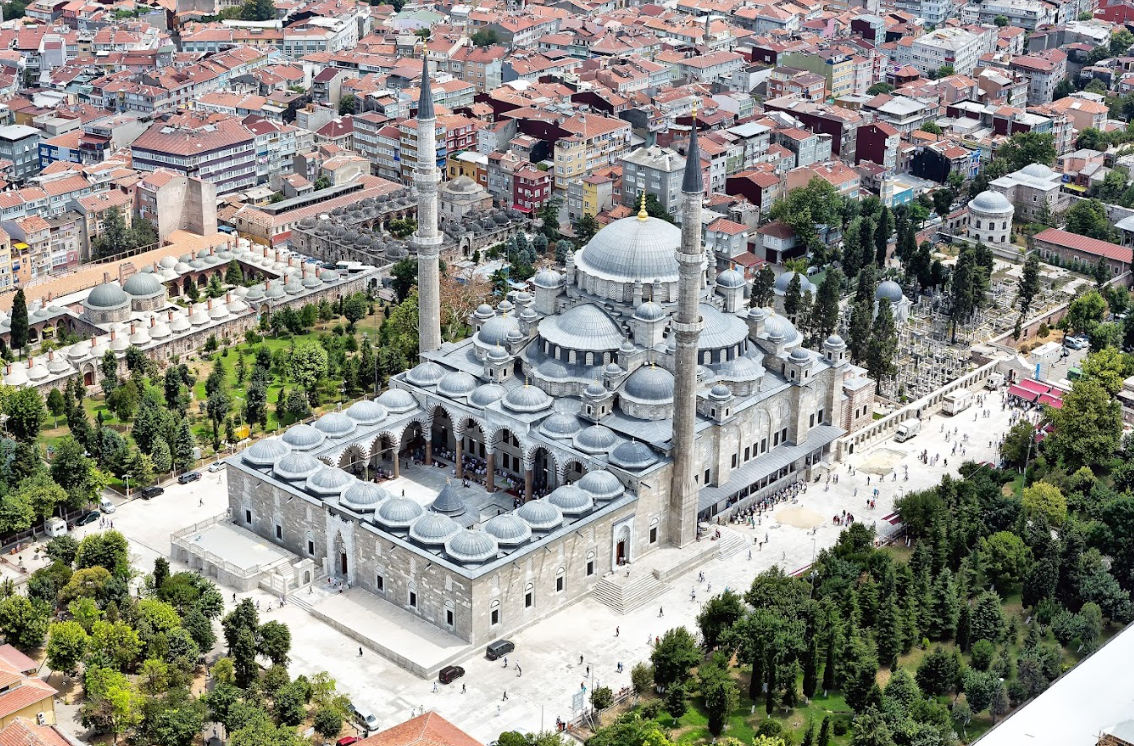 Suleymaniye Mosque
One of the monumental things to do in Istanbul is to visit the Mosque with immense history and meaning. Designed by the imperial Architect Sinan in 1550, Suleymaniye Mosque is a must-see historical place in Istanbul. Alongside it being an attraction for tourists, it has great religious significance. The process of building it started in 1550 and was completed in 1557. Since it took eight whole years to build, it is considered one of the important historical places in Istanbul. It was initially created in the name of Sultan Suleyman the Magnificent by Architect Sinan.
One of the few things that attract the attention of bystanders is its staggeringly immense size. Therefore known as Architect Sinan's largest design. Thanks to its enormous size, it also accommodates eye-catching designs on its walls, compared to Michelangelo's work. However, the Mosque doesn't only contain terrific design and jaw opening architecture; it is also home to the tombs of Sultan Suleyman the Magnificent, his wife Haseki Hürrem but also the architect himself, Architect Sinan. So, travel to Istanbul and discover the many wonders of this city, including historical places, bazaars and hammams!
Sehzade Mosque also called "Prince's Mosque."
Another masterpiece of Architect Sinan that you can visit while travelling in Istanbul is the magnificent historical Mosque, Şehzade Mosque. Located also in the Fatih district in Istanbul, the Mosque was commissioned by Sultan Süleyman the Magnificent as a tribute to his favourite son Şehzade Mehmet who died in 1543, hence its nickname "Prince's Mosque". Considered Architect Sinan's most magnificent and famous work, the Mosque is one of the historical places in Istanbul to travel to while discovering Istanbul.
The Mosque was Architect Sinan's first major imperial work and held great value in the history of mosques in Istanbul. The Mosque's design takes your breath away, firstly with its large central dome surrounded by smaller domes and secondly by its courtyard. This is a prime example of Ottoman architecture with its open-air portico. So go ahead and travel to Istanbul, and enjoy the many beauties that Architect Sinan offers!
Hidden Owls in Istanbul
One of the few characteristics that distinguish Architect Sinan's work from any other architect is his use of imagination to fulfil the essence of architecture. While Architect Sinan has masterpieces scattered along with Istanbul and Turkey, you can also find clues that reflect his interests in his imperial works. While it is commonly considered a symbol of evil, owls also represent knowledge and wisdom. In Greek mythology, Athena comes down on earth as an owl to observe the mortals.
Athena is the goddess of wisdom, which may be an insight into why Architect Sinan implements owl figures in his designs. Looking at the mosques that he built at a certain angle will reveal the formation of an owl. You can find the symbols in many of his masterpieces. A couple of them are Selimiye Mosque and Suleymaniye Mosque. It is unclear why Architect Sinan had this unusual connection to owls; however, looking up at them and seeing his mastery in a different light will make you want more.
Honourable Mentions
Büyükçekmece Bridge is one of Architect Sinan's lesser-known works. However, it holds great value and displays immense magnificence. The White Tower of Thessaloniki is another masterpiece designed by the Architect Sinan. Located in northern Greece, it enchants by-passers with its size and beauty. So next time you're in Turkey, pay a visit to its neighbour and see countless masterpieces of Architect Sinan.
Architect Sinan's work is not limited to Istanbul; you can travel to Turkey and find his many bridges and mosques scattered around, waiting to be discovered. Travelling to Istanbul and learning the hidden stories kept inside the masterpieces of Architect Sinan will give you a glimpse of life during the Ottoman Empire. Being a country with immense history, Istanbul offers beauty in its streets, mosques and bazaars.
Starting with the mosques, there are no shortages in historical places in Istanbul. Considered one of the greatest architects of all time, Architect Sinan poured all of his love into his designs and created masterpieces in Turkey and worldwide. Starting your journey into discovering the mind and work of Architect Sinan should begin in Istanbul, Turkey
Frequently Asked Question
Who was the most famous Ottoman architect?
Architect Sinan, with his glorious constructions, is regarded as the most famous Ottoman architect.
Why is Mimar Sinan significant to the Ottoman Empire?
Architect Sinan is famous because his work at the time represented the glory of the Ottoman Empire.
Who built the Blue Mosque?
The Blue Mosque was built by Mimar Sinan from 1609 to 1616.
Who built Topkapi Palace?
Topkapi Palace was built by more than one person. All Mimar Sinan, Sarkish Balyan, Davut Aga and Acem Ali were active during the construction.
How to get to Suleymaniye Mosque?
The easiest way to reach the Suleymaniye Mosque is by taking a tram to the areas around the Grand Bazaar and the University.