Taste Ottoman Palace Cuisine
Taste Ottoman Palace Cuisine
Treat yourself to an extravagant 4-course Ottoman feast fit for a Sultan!
Duration: 1.5 Hours
Pick-up Services: Pick up service is not available.
Highlights
Enjoy delicious, authentic Ottoman cuisine.
Eat like the Sultans of the 14th and 15th centuries.
Full Description
This is not a cooking workshop, it's a "Sultan experience"! Come and treat yourself to a 4-course Ottoman feast fit for a Sultan! We'll set the scene so you feel the grandeur of the Ottoman Empire. All you need to do is bring your appetite and enjoy the following:

Soup
Almond Soup - a festive dish made from milk, butter, stock, sweet and bitter almonds with ground nutmeg and pomegranate seeds

Appetizers
Ottoman Hummus - a tasty mezze made from mashed chickpeas, tahini and olive oil with cumin, garlic and roasted pine nuts
Spinach Piruhi - homemade ravioli stuffed with spinach and an assortment of cheeses
Muhammad bin Mahmud Sirvani Cheese Pie - thin sheets of pastry rolled with six types of cheese and peas, fried and served with honey

Main Course
Goose Kebab - shredded goose meat rolled and baked with rice in a sheet of pastry (a palace recipe during Fatih Sultan Mehmet's reign) OR
Lamb Shank with Keskek - the side dish "keskek" is an Anatolian tradition, made of boiled wheat marinated with butter

Dessert
Baklava - after baking to perfection, a sweet syrup is immediately poured over the pieces allowing the syrup to soak into the layers (14th-century recipe)

Drinks
1 house wine OR 2 beers OR 3 soft drinks
Photos
Includes
Delicious 4-course menu.
Limited beverages, as described.
Extra beverages.
Anything additional requested or ordered that is not on the set menu.
Pick-up, drop-off service.
Meeting point
Meet at Deraliye Restaurant located in Sultanahmet (a district in the Old City). You can take the T1 tramline and get off at Sultanahmet station. The restaurant is a 5-minute walk from Hagia Sophia.
Location
Know Before You Go
Please inform your waiter if you have any food allergies.
About your Host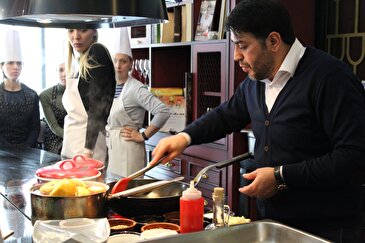 Necati Yılmaz
In the heart of Old Istanbul, next to Hagia Sophia and a few steps from Topkapı Palace, Deraliye Restaurant offers a selection of dishes that used to be served at the court of the Ottoman Empire.
read more
---
Customer Reviews
9.33 Superb Based on 3 reviews
Oscar - September 29, 2022
It was worth to every seconds. Nothing to say more. Delicious.
Dolores - February 22, 2019
Dishes were like pictures. Just one point, the design of restaurant does not reflect the dishes. Could be designed some more Ottoman style.
Wilbur - February 22, 2019
Cheese pie was my favorite. But i ate more delicious baklawa on the otherside of old town.