Where green meets with blue: Anadolu Kavağı
Anadolu Kavağı is a pretty little seaside village, every corner of which features traces of a life integrated with the sea.
Fish restaurants, gift shops, veteran boats and historical monuments welcome hundreds of tourists every year to 

Anadolu Kavağı. This is an ideal place for an escape in all seasons of Istanbul. It is like a harbor where you can find shelter away from the daily routine and the crowd of the city. It is a seaside village at the point where Istanbul meets the Black Sea, and blue integrates with green.


Towards blue and green

Geographically speaking, Anadolu Kavağı is like a gate opening from the Marmara to the Black Sea. You can reach Anadolu Kavağı by land, using Beykoz exchange from Fatih Sultan Mehmet Bridge, or by boat. If you prefer to go by boat, you will see all the beauty of the Bosphorus during the journey. Municipal boats leave regularly from Eminonu and Kadıköy. If you want to have a short trip, you may also prefer the ferries taking off from Sarıyer every hour. 

Those who go by land are recommended to take a break on Yuşa Hill, Istanbul's highest hill. A common belief is that the grave of Joshua the Prophet is on this hill and every wish made here comes true. This is why you can see visitors who have come to fulfill their vows and to make new wishes while visiting Yuşa Mosque and Tomb. 

We highly recommend that you take a walk in the fresh air of Yuşa Hill, where you can also find gift shops, and stop in Gizli Bahçe (Secret Garden) to watch the city "from the highest point". But do not be seduced by the smell of pancakes; a grand feast of fish is waiting for you in Anadolu Kavağı.
Meeting of two seas

The first place to go in Anadolu Kavağı - which lost nothing of its green; thanks to being a military protected area- is Yoros Castle. You can get to the castle with a twenty-minute walk from the pier. It is the symbol of Anadolu Kavağı. It was built in 1190 by the Genoans to protect the straits and is thus called Genoa Castle as well. Both the history and the view of the castle are worth paying attention to.

 While climbing up to Yoros Castle, you can take a break in Yoros Tea Garden on the way. You need to climb up a very steep road to reach the castle. Once you get there, take deep breaths of nature's festival where green meets blue and the Marmara meets the Black Sea.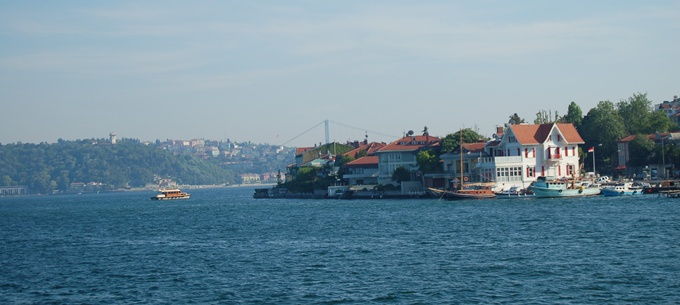 These are alive!

If you can detach yourself from the fascinating view of Yoros Castle, you can walk on the shore, which gets especially crowded when boats arrive and leave. You can also have a feast of fish if you feel hungry.

 There are many restaurants on the shore as well as snack bars where you can eat any of the season's fish. We should note that it is forbidden to grill in Anadolu Kavağı as it has 700-year-old trees.

 Apart from the flavor festivity created by fish and waffle bars under the shadow of ancient plane trees, "Ismail'in Yeri" (Ismail's Place) is one of the most popular restaurants of Anadolu Kavağı. We especially recommend that you eat mussel and calamari in this restaurant that has been in service right beside the boat pier for twenty years. 

Anadolu Kavağı welcomes many tourists every season thanks to Yoros Castle, and offers a pleasant stroll on the narrow streets enriched by wooden houses. Remember to drink from Kumdöken Fountain, whose water is believed by the locals to be healing. If you want to do some shopping, our recommendation is either the clothes made of special Şile fabric or silk rugs coming from Isparta.

 Evenings are quite peaceful in Anadolu Kavağı, whose population as well as its nature has not changed in fifty years. If you want to extend this sweet escape where you can leave the turmoil of the city behind, there is only one place to stay in Anadolu Kavağı: Taşlı Yalı Butik Hotel on the shore. You can have something to eat and drink in the restaurant of the hotel and breathe the smell of the sea without thinking about tomorrow.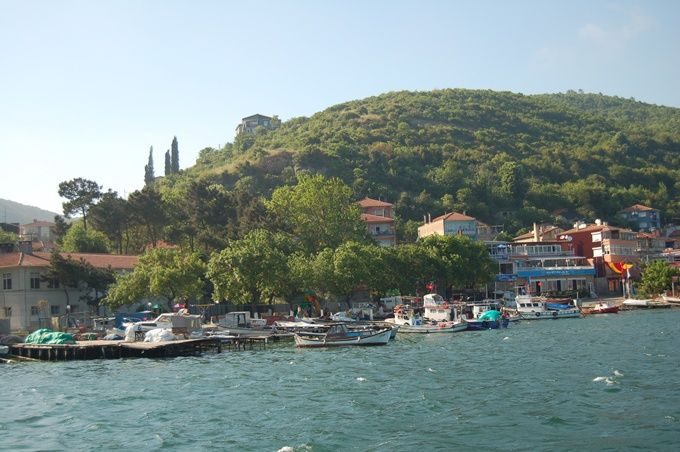 ---
Leave a Comment
You can also write your personal comment with