Vintage & Second Hand Shops in Beyoğlu, Istanbul
If you say "Oldies but goldies!" this is the perfect article for you! Join us in our hunt for stylish vintage and second hand stores in Beyoglu, Istanbul!
1) By Retro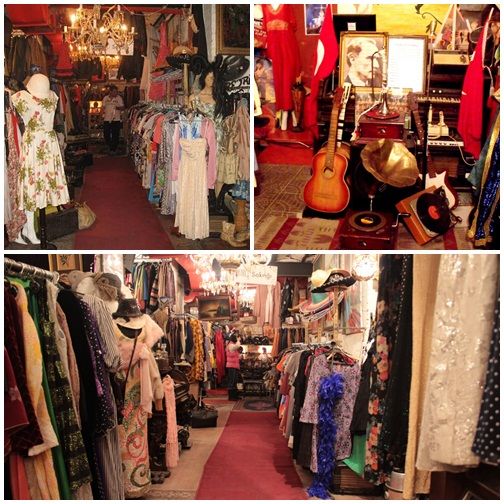 While the period tv series were increasing in number, vintage effect on fashion became bigger and bigger everyday in Turkey and everybody was curious about the source of those stylish vintage clothes that you can either buy or rent. They didn't have to wait for long when the fashion hunters discovered By Retro, where it all started! From wedding gowns to military uniforms, you can find almost any kind of clothing and accessories from 40's to the millenium in By Retro. Plus you'd have a chance to see the historical Suriye Pasajı where you will find this beautiful store.
---
Address: İstiklal Cad. Suriye Pasajı No: 166/C Asmalı Mescit, Beyoğlu
Tel: (+90) 212 245 6420
---
2) Madam Mare Vintage

Madam Mare is at the famous Kadirler Descent that is extremely easy to find since historical Galatasaray Highschool is right at the beginning of the descent. When you search among the tiny and fun stores of Kadirler Descent, Madam Mare is quite easy to notice. This lovely store offers clothing and accessories from many eras with great prices. Where else can you find shirts and skirts for 20 TRY, coats and jackets for 90-120 TRY and pullovers for 30-80 TRY? It is shopping time!
---
Address: Firuzağa Mahallesi, Kadirler Yokuşu, No 67/A Cihangir/Beyoğlu
---
3) Pied de Poule

Pied de Poule is one of the little known vintage stores of Çukurcuma even though it was mentioned in Wallpaper, New York Times, Financial Times and many other reputable newspapers, as well as various fashion programs on tv! The owner of Pied de Poule, Şelale Gültekin, had started this 'old-fashioned' business with her grandmother's clothes and now the result is Pied de Poule! Keep in mind to see her hat collection of 300 pieces and the special lingeries and corsets of the store!
---
Address: Faik Paşa Yokuşu, No: 19/1, Çukurcuma, Beyoğlu
Tel: (+90) 212 245 8116
---
4) Evvel Zaman İçinde (Eleni Vintage Galata)

Galata'da Serdar-ı Ekrem Caddesi üzerinde yer alan Bayan Eleni'nin vintage mabet-i olan Evvel Zaman, bizleri 1920'li yılların Fransa'sına götürüyor. 20 ve 50'lili yıllardan kalma gelinlik ve gecelikler içinde kaybolurken bir yandan eski dönemin en hit trendlerini keşfediyoruz. Antika eşyalardan tutun, eldiven ve ayakkabılara kadar pek çok ürün yelpazesini bir arada sunan Bayan Elleni bu işi aşkla yapıyor.
---
Adres: Kuloğlu Mah., Adile Naşit Sok. No:3, Cihangir/İstanbul - Avrupa
Telefon: 0532 506 5019
---
5) My Pera 1960

Cihangir'in gözde vintage dükkânlarından olan My Pera, 1940 ve 80'li yılların modasını yansıtan ikinci el bir retro dükkân. Sahibi Türkan Rodoplu'nun hem özel parçaları, hem de kendi tasarımlarına yer verdiği My Pera'da dünya markalarından; Gucci, Armani, Versace ve Dolce Gabbana'nın ürünlerini bulmanız mümkün.
---
Adres: Altıpatlar Sokak, No: 2A Cihangir, İstanbul
Telefon: (0212) 292 5187
---
6) Closet Circuit

Giriş katında kıyafetlerin satışa sunulduğu, arka bahçesinde kafesi ile vejetaryen yemekler sunan Closet Circuit, kişilerin kullanmadığı ancak dolabından çıkaramadığı ya da ne yapacağını bilemediği giysileri değerlendirerek geri dönüşüme katkıda bulunuyor. Eski bir alışveriş tutkunu olan dükkân sahibi, kendi giysilerinden kurtulma kararını aldığı zaman, bu isteğin sadece kendinde olmadığını fark eder ve dolaplar arası bir döngü yaratır. İlhanımı Permakültür prensibinden alan "Dönme Dolap" fikri Closet Circuit gerçeklik kazanır. Çok çeşitli ürünlerle dolu olan mağaza'da 20 ila 250TL arası fiyatlarla vintage kıyafetler bulabilirsiniz.
---
Adres: Firuzağa Mahallesi, Bostanbaşı Caddesi No:23, Çukurcuma Beyoğlu
Telefon: 0536 060 3296
---
7) Mozk Vintage Shop

Cihangir'in ara sokaklarında keşfettiğimiz nadide parçaların satıldığı vintage mağazası olan Mozk, önce davetkâr vitriniyle bizleri içine çekti. Sonra da içerde bulunan özel parçalarıyla... Diğer mağazalardan onu ayıran özelliği, çok eski ve neredeyse antika olmuş parçaları satıyor olması. Bu yüzden fiyatları diğer vintage mağazalara göre biraz daha pahalı. Mağazanın en özel parçaları çok şık ve çok havalı olan şapkalar ve gözlükler, sahipleri Selda Bola ve Berk Özkanlı, mağazada satılacak her ürünü özenle seçiyorlar. Kıyafet ve aksesuarların çoğunu İngiltere'den toplayarak vintageseverlerle buluşturuyorlar.
---
Adres: Kuloğlu Mah. Ağa Hamamı Sok. No:13/B Cihangir
Telefon: (0212) 252 3499
---
8) Bin Bavul Vintage

Stil sahibi İstanbul semti, Galata'nın vintage dükkânı Bin Bavul, aklınıza ne geliyorsa onu bulabileceğiniz bir vintage retro mağaza. Galata Kulesi'ne giden yokuştan sağa doğru kıvrıldığınızda taştan bir patikaya doğru açılan demir kapıdan girerek kıyafetler arasında zamana yolculuğa çıkabileceğiniz Bin Bavul'da dönem ayakkabıları, şapkaları ve çantalarını hatta gelinlik ve balo kıyafetlerini bile bulabilirsiniz.
---
Adres: Galipdede Cad. No: 66, Galata/İstanbul
Telefon: (0212) 243 7218
---
1) Atölye Mariposa, Cihangir

İki kız kardeş Didem Arayıcı ve Banu Öneş, hayallerini takip ederek, yaşamaktan büyük keyif aldıkları Cihangir'de, 2007 yılında Atölye Mariposa'yı kurdular. Dükkandan içeriği adım attığınızda, eskinin incelikli güzelliğini, yeni tasarımların modern yüzünü, geçmişle gelecek arasında kurulan zarif geçişi hissedeceksiniz. Mariposa'nın kurucu tasarımcısı, Banu Öneş'in hazırladığı birbirinden romantik ve geçmişin zarafetini günümüze uyarlayan, eski terzilik metotları ile hazırladığı koleksiyonlarını, yurt dışından özel olarak seçtiğimiz genç tasarımcıların birbirinden zevkli elbiselerini ve aksesuarlarını, Marie-Therese stili avizeler, çay saatlerinizi renklendirecek porselen çay takımları, bu şık takımlara eşlik eden dekoratif tepsiler ve birbirinden şık ev aksesuarları hepsini bir arada bulabileceğiniz bir vintage dükkan.
---
Adres: Şimşirci Sokak No:11/A Cihangir İstanbul
Telefon: (0212) 249 0483
---
---
Leave a Comment
You can also write your personal comment with