Unique Designs for Your Place
A few retailers will help you create the home of your dreams, rather than having to tailor your taste with corny furnishings.
They say that "Your home reflects your personality". In these pages we would like to suggest a few retailers that will help you to create the home of your dreams rather than having to tailor your taste to run-of -the-mill furnishings. Each bears the hallmark of particular designer, chic and attractive products that will be a source of design ideas for your home.
It probably wouldn't be exaggerating to say that our homes are our havens. Our homes are no longer merely four walls and a ceiling; the increasing attraction of the home-office concept, and technological advances in home entertainment such as home-theatre systems, game consoles, etc. are the indicators of that fact. Our homes play a greater role in our lives. So why don't we improve the ambience of our homes? 
No longer is it a difficult task to find all the necessities for home decoration, from local Turkish designers to world-renowned names. There are many options available including leather curtains that look like lace, nostalgic cane chairs, striking light-fittings and coffee tables . If you are interested, here are four different addresses for your next shopping trip.
Cihangir Mobilyacısı 

All residents of the Cihangir are sure to know Cihangir Furniture Store, but we would like to introduce this shop those who visit the district less frequently. Run by the architect Oğuz Ayata, this boutique on Defterdar Yokuşu has offered exclusive furniture and decoration designs for five years. The stylish and practical designs are mainly manufactured in-house and everything is custom-made from armchairs to lampshades, from rugs to tables and cushions. A plexiglass lampshade made in the shape of a giant bulb and colorful village coffeehouse-style chairs are just a couple of objects that draw customers' attention. You can order an armchair or sofa upholstered in the fabric of your own choice, or select one of the ready-made products by famous designers sold in the store. It is best to head to Cihangir and look around this fascinating and stylish store and see for yourself. You are bound to find something you like.

Address: Defterdar Yokuşu, No: 50-A Cihangir

Telephone: +90 (212) 292 19 11
Haaz
With a history of eight years in Turkey, Haaz opened its doors at Adressistanbul and is an eye-catching store with products from 66 world-renowned designers. Yalçın Gülen, Store superintendent, is very satisfied with the store's new location. Some of the attractions that draw visitors' attention in the store are Tom Dixon's lightings, Jonathan Adler's ceramic birds, Drog Design's sofa made of clothing and 15 bags, or the Campena Brothers' chair inspired by Brazilian shanty home furniture. Other products include the "Shanghai Tip" sofa by the Spanish designer Morozo, the "Bead Pieces" bowl set made to raise money to support poor families in Peru, and ornaments from India: these should give you some idea of the store's product diversity.

Address: Adressistanbul, Halide Edip Adıvar Bulvarı, Çiftecevizler Deresi Sok. No: 4, Kat: 2 Şişli

Telephone: +90 (212) 210 45 63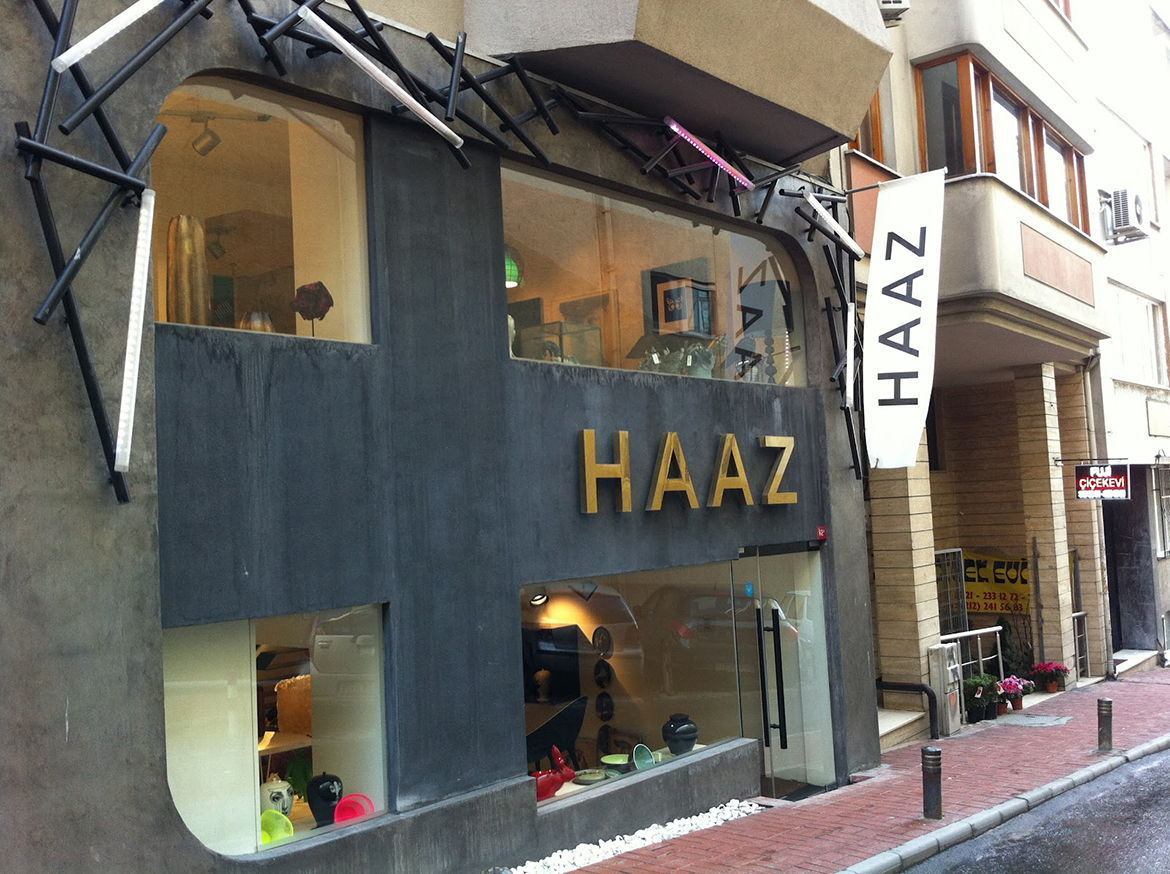 Nahide Büyükkaymakçı

The store on the famous Faik Paşa Yokuşu in Çukurcuma does not have a signboard or a large display window. But those involved in art and design know this place well. Opened as a workshop by Nahide Büyükkaymakçı, known in Turkey for her designs, which range from lighting units to clothing, from floor coverings to decorative items. It has also functioned as a store in recent years. In addition to ornaments in leather, glass and bone by Nahide Büyükkaymakçı, the store also offers designs from almost 20 artists including Tahsin Aydoğmuş, Nuray Ada, Şenay Akın, Ceren Oykut, Beyza Ergün, Mehmet Kutlu, Şeyda Cesur in a huge diversity of products such as tables, paintings, lighting units, ceramic objects, ornaments, etc. 

Address: Faik Paşa Yokuşu, No: 7 A, Çukurcuma

Telephone: +90 (212) 292 68 55
Stoa

With his unusual background of an education in philosophy and then experience in wooden furniture design, Tardu Kuman has been putting his name to on many successful designs at his store behind Galatasaray High School for the last nineteen years. The products at Stoa, such as bookshelves, tables, coat hangers and sofas, are far from what we are used to seeing. The hand-made designs are made of oak, walnut and some African trees. Particular attention is paid to keeping the natural texture and shape of wood at Stoa. The resulting unique appearance of each design lends the products an artistic value. In addition to Tardu Kuman's candleholders and sculptures made of discarded off-cuts, you can also find ornaments by Yalçın Çapoğlu.

Address: Hayriye Cad. No: 18- A Çukurcuma

Telephone: +90 (212) 251 40 98
---
Leave a Comment
You can also write your personal comment with