The pleasure of rakı and fish in Istanbul: Kumkapı
The unique meyhane culture of Kumkapı, in which rakı is drunk while eating fish and mezzes, and wandering musician roam from table to table while playing.
The area of Kumkapı was first founded as a fishing village during Byzantine times. In that era, it was known as Kostonkalion and its harbour was a common destination for sailors. Sailors, who lived and worked on their boats during the day, made it their first stop in the evenings when they wanted to chase away their bleak solitude. As such, Kumkapı became the center of meyhane culture. The tradition of the meyhanes, which stretches back into history more than one thousand years, is still preserved today.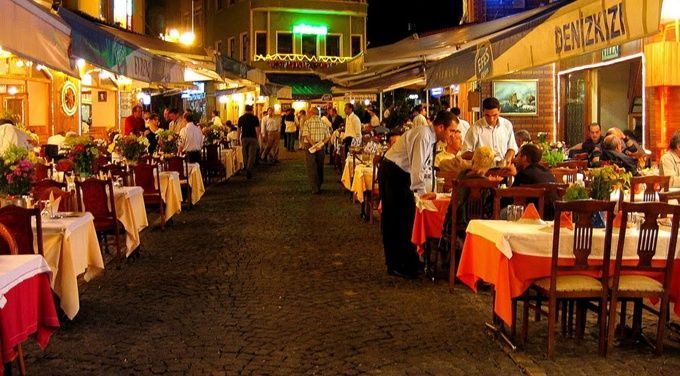 The pleasure of rakı and fish

On the rough, cobblestone streets of Kumkapı, the entertainment begins in the early hours of the evening, and lasts without pause until the morning. One can often catch a whiff of the unique odor of meyhane, a mixture of fresh fish, mezzes, and rakı.
The menu at a meyhane typically consists of traditional Ottoman mezzes, including topik (a spread of potatoes, onions, and garbanzo beans), fasulye pilaki (a cold dish made from dried beans and olive oil), fava (mashed beans), hummus, haydari (a garlic-yoghurt spread), ezme (spicy tomato with pepper paste), dried mackerel, salty bonito, and stuffed mussels. Following the mezzes, a variety of seasonal fish are offered as a main course. Rakı, of course, traditionally accompanies the meal, though other types of alcoholic beverages are also available.
Besides, groups of Gypsy musicians, usually play the violin, tom-toms, and clarinet. You have the opportunity to listen to a traditional type of Turkish music, "fasıl". At some meyhanes, you might even be able to watch a belly dance performance.
---
Leave a Comment
You can also write your personal comment with