The Museum of Painting and Sculpture
Istanbul Museum of Painting and Sculpture, the first fine arts museum in Turkey, exhibits the masterpieces of many Turkish and internationally famous artists and artwork.
The largest collection of Turkish painting and sculpture is in the Istanbul Museum of Paintings and Sculpture. The museum is located in the Veliaht Dairesi (Heir's Room) in Dolmabahçe Palace and features many works by Turkish artists, from the 19thcentury onwards.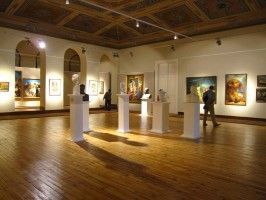 In the museum, founded by the order of Atatürk in 1937, you can see the work of many famous Turkish artists such as Osman Hamdi Bey, Şeker Ahmet Paşa, İbrahim Çallı, Bedri Rahmi, Abidin Dino, and Sabri Berkel.
In the Museum of Painting and Sculpture houses 6531 design and paint drawings, 487 sculptures, 78 scriptures, 50 ceramics, 10 icons: a total 7000 works of art are exhibited in the museum. These works are classified according to their time periods. Furthermore, works by some international artists such as A. Dunoyer de Sagonsac, Andre Derain, P. Bonnard, Pablo Picasso, Maurice Utrillo, Raoul Dufy, Henri Matisse and Marquet are among the collection.
Except for Mondays and Tuesdays, you can visit the museum ever day from 12.00 to 16.30 free of charge.
---
Leave a Comment
You can also write your personal comment with