The Anatolian Fortress
Constructed under the edict of the Ottoman Emperor, Yıldırım Bayezid, in Beykoz district today to facilitate to Istanbul's conquer, the Anatolian fortress is one of the pieces that greatly contributes to the charming silhouette of Istanbul.
Located within the boundaries of the Beykoz district in the Anatolian side of Istanbul, the Anatolian Fortress is one of the historical masterpieces embellishing the coast of the Bosphorus. Giving its name to the district in which it is located, the masterpiece was built under the edict of the Emperor Bayezid the 1st as an auxiliary construction that would ease besieging of Istanbul that was under the control of Byzantium at that period. In 1452, the Rumelian Fortress was then constructed under the edict of Fatih Sultan Mehmet just on the opposite side of the Anatolian Fortress as reinforcement. While this new tower was being built, the Anatolian Fortress was also repaired under the edict of the Sultan Fatih.
The Anatolian Fortress can be considered as typical example of the military architecture of the Ottoman. In its construction, bricks were also employed in addition to the square-cut block stones. The primary structure of the fortress, established on the narrow area where the Göksu brook flows into the Bosphorus, is constituted by a high rectangular tower. Walls enclose this tower that functions as an internal castle. This tower and the internal wall are buttressed by a second rampart. These ramparts are surrounded by bastions. This rampart functions as an external castle. Apart from it, the tower is composed of the primary castle, internal rampart, external rampart and three secondary towers.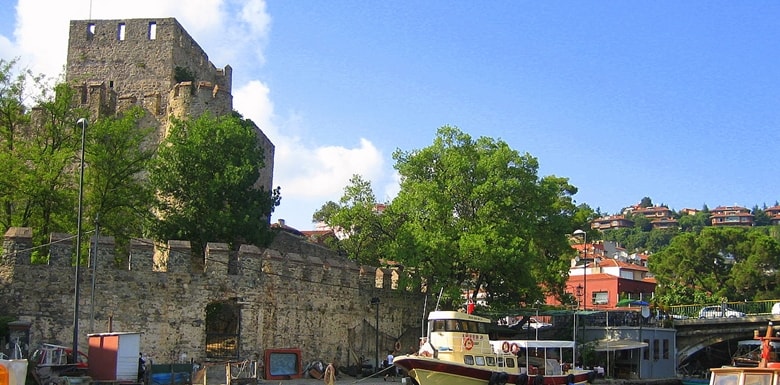 The major function of the Anatolian Fortress during the siege of Istanbul was, like the Rumelian Fortress, to ensure the control of navigations through the Strait. During the years following the conquer of Istanbul, the fortresses also took a vital role in avoiding the threats coming from the Black Sea in addition to securing the Turkish sovereignty in the Strait.
Today, the fortresses are ranked among the top values that bring extra beauty in the Bosphorus' silhouette.
---
Leave a Comment
You can also write your personal comment with