Shopping in Istanbul for all seasons!
Istanbul invites you to the enjoyable world of shopping, with its world-class, modern shopping districts and authentic passages.
The colorful face of history and daily life in Istanbul is also reflected in the city's shopping world. Istanbul addresses all the demands of both its residents and visitors with its reasonable prices and special stores. In all shopping areas, either from a boutique in the odd corners of a passage or in world-famous stores, we are sure that you will absolutely find a product that appeals directly to you.
If you have limited time to go for shopping, you should plan your shopping trip because in Istanbul you can find some specific products only in specific places. Now, we invite you to the most important shopping areas in Istanbul through the shopping route prepared by Moda (Fashion) Turkey.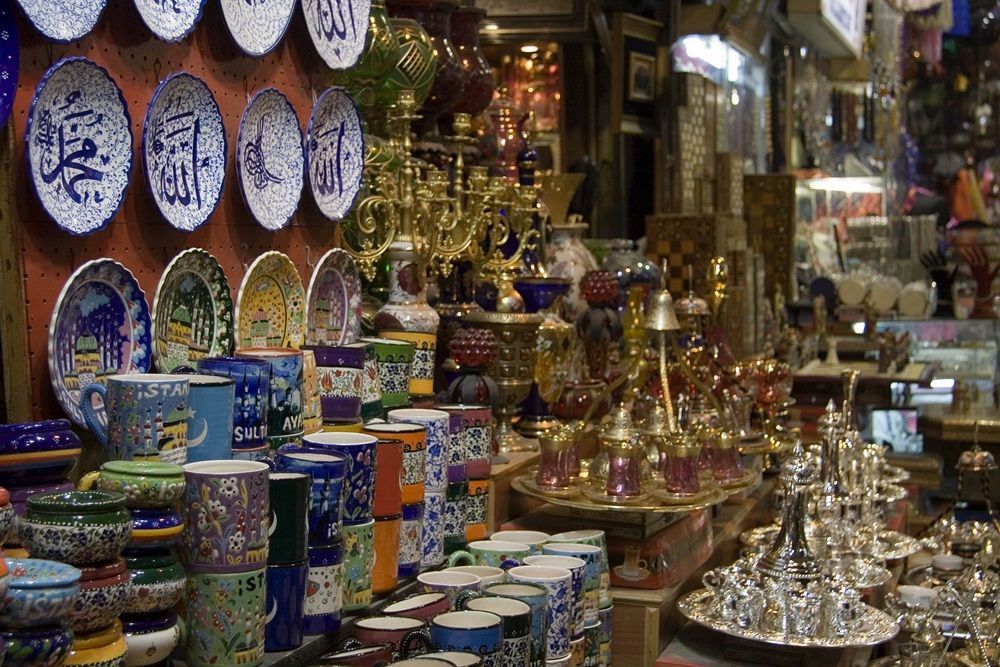 The Chirpy Grand Bazaar
Just next to the deluxe shopping malls where you can find world-wide famous brands in one place, there is an alternative shopping center, unique to Istanbul and which describes Istanbul: The Grand Bazaar. Grand Bazaar is a place that keeps lots of vanishing professions alive with their unique culture. It is the world's oldest and biggest bazaar where a variety of products are exhibited. The bazaar includes more than 3 thousand shops and it is visited by approximately 400 thousand people annually. During the Ottoman Empire era, jewelry and precious hand-woven textiles were gathered in Kapalıçarşı from all over the country to be sold, and it is a shopping paradise for people who appreciate traditional textiles and authentic jewelry. Oktay Ekinci, President of the Chamber of Architects, says that "It is not just seeing a historical and mysterious place; it is the attractiveness created by the market tradition deriving from the past and by the human warmth intermingled with that, and even the feeling of `trust`."
---
Eğin Textile One
One of the oldest shops in Kapalıçarşı is the Eğin Textile. At the moment the shop is run by the 5th generation of the family and the shop has a history of approximately 140 years. The firm sells thousands of loincloths to the famous 7-star-hotel Bruj-El Arab in Dubai, and it is also frequently visited by famous designers such as Rıfat Özbek and Dolce Gabbana. In addition, the capes and special shawls used in the movie Troy were manufactured by Eğin Textile.
Address: Yağlıkçılar Street, No: 1 Kapalıçarşı Fatih / İstanbul
---
Dervish
In Dervish, you can find triple skirts, hand-woven textiles and colorful kerchiefs brought from Anatolia. Many designers visit the shop.
Address: Keseciler St. No: 33-35 GrandBazaar, 34440 Eminonu, Istanbul
---
Muhlis Günbatı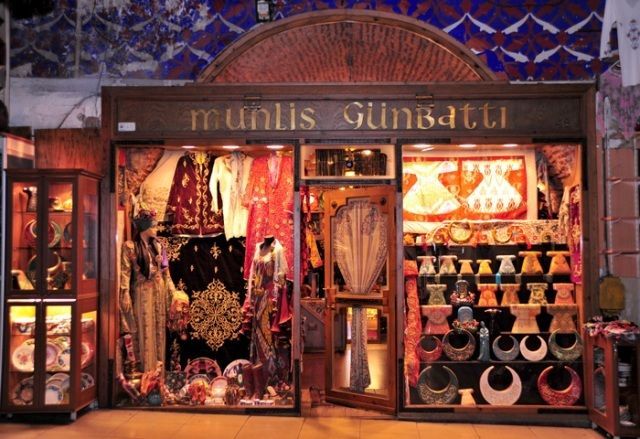 Another interesting and attractive shops in the Grand Bazaar is Muhlis Günbatı. In this shop you can find colorful and appealing Ottoman-style caftans and other traditional clothes. Among the customers of the shop are Güler Sabancı, Çiğdem Simavi, Yıldırım Mayruk and Dilek Hanif.
Address: Perdahçılar St. No: 48 GrandBazaar, 34440 Eminonu, Istanbul
---
Adıyaman Bazaar
In the Adıyaman Bazaar, you can find Gaziantep textiles and very beautiful shawls. The shop is frequently visited by fashion designers such as Rıfat Özbek and the students of fashion designing-patch work courses.
Address: Yağlıkçılar St. No: 74-76 GrandBazaar, 34440 Eminonu, Istanbul
---
Gülipek
Gülipek sells authentic clothes of dazzling colors, and it is frequently visited by fashion designers such as Özlem Süer and Cemil İpekçi. In Gülipek, you can find hundreds of alternatives for your taste and budget. "Yazmacı" the favorite place of Dolce & Gabbana and Rei Kawabuko. Among the customers of this shop are people such as Donna Karan, Jean Paul Gaultier, Rıfat Özbek, Cemil İpekçi and Atıl Kutoğlu. Just like Eğin Textile, caftans and specially-woven textiles were prepared in Yazmacı for the movie Troy starring Brad Pitt. In the shop you can find authentic loincloths and stamped head kerchiefs.
---
Beyoğlu
Beyoğlu is one the districts which depicts the cosmopolitan structure of Istanbul at its best. In the past, while thinking of fashion, the first place that came to mind was Beyoğlu. It covers the area between the west of Kasımpaşa Valley and the Gazhane Valley, composed of 45 streets. Today, it contains Istanbul's most important culture, entertainment and business centers. 

In the past, Beyoğlu streets welcomed citizens from high-income levels, most of whom were foreigners, and today it welcomes everyone from any cultural background and age. 

In Beyoğlu, you can find chain stores of brands such as Diesel and Vakko whose prices are over the average level, but there are also relatively small shops and costume-makers who are unknown by the majority. Among those hidden shops are Raven, Porto Bello, By Rodo, Pulp, Bondea Fashion and Çantacı and Cem (which is famous with the bags manufactured on order). The most important feature of those shops is they contain all kinds of products and that their price range is quite reasonable. Among the leading costume-makers are Garderobe and Merih Costume which can be visited for all kinds of occasions.

If you want to take a break and rest or have a nice dinner while shopping in Beyoğlu, which is also called "Pera" by the foreign tourists, the ideal places are the Arka Sokak, Fado Irish Pub, Sir Winston Tea House and Le Caprice in the French Street.
---
A journey to the center of elegance: Nişantaşı
Nişantaşı is doubtless the most important shopping and fashion center of Istanbul. Its name originates from the target stones that were built during the Ottoman period. Today the district hosts hundreds of boutiques and stores of all sizes. Nişantaşı resemble the cities such as Paris and Vienna with its magnificent historical buildings, luxurious shops and cafes. There you can you can see the most luxurious cars and the most elegant people of Istanbul along with the special stores of the most expensive brands. The district has 4 main streets: Teşvikiye Caddesi (street), Vali Konağı Caddesi, Abdi İpekçi Caddesi and Rumeli Caddesi. In Teşvikiye Caddesi, which starts in Maçka and goes to Valikonağı, there are the stores of Emporio Armani, Gucci, and Zara. There are also the special boutiques of the designers such as Gamze Saraçoğlu. Armani Cafe and Teşvikiye Cafe are among the ideal alternative places where you can take a break and have a rest. The most popular street in Nişantaşı is the Abdi İpekçi Caddesi. On this street, you can see the shops of many famous brands such as Valentino, Louis Vuitton, Roberto Cavalli, Hugo Boss, Alexander McQueen one after another. Dozens of shops, restaurants and cafes compete with each other in terms of luxury and magnificence, welcoming the most distinguished and the wealthy guests of the district. The cafes in the Reasürans Arcade, Beymen Cafe, Buz Bar, The North Shield and Niş are some of the alternatives we can recommend you for your breaks. While you are shopping in Nişantaşı, you can use the entrances of the Vali Konağı and Teşvikiye streets, the municipality street parking garages in Abdi İpekçi Street and Maçka Park, multistorey car parks in Teşvikiye Street or the private car parks in the side streets as parking spots.
---
Elegance of the Anatolian side: Bağdat Street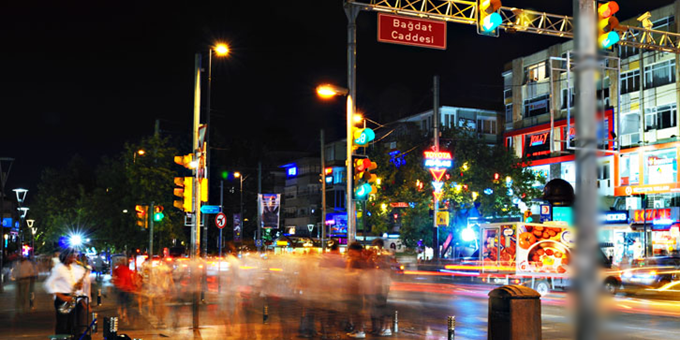 The road that the Ottoman army once used while leaving Istanbul has recently become one of the most popular shopping and entertainment centers for the youth of Istanbul. 

Along the street, it is possible to find the shops of almost all popular brands such as Zara, Louis Vuitton, Tommy Hilfiger, or Barbour. Especially in the section between Erenköy-Suadiye, there are dozens of famous cloth, jewelry and cosmetics shops one after another. Although Nisantaşi contains more "haute couture" boutiques than Bağdat Street-except for a couple of examples near Erenköy-hundred thousands of people are still attracted to this place by its multistorey stores such as Boyner and YKM, and by dozens of small shops selling various products imported from outside the country. If you have a look at the shops on the back streets, you will have infinite shopping choices, appropriate for almost all budgets on Bağdat Street.
The fashion trends are closely followed in Bağdat Street and you will come across highly elegant people on this street. In Bağdat Street, where the people who love shopping never want to leave because of its luxurious stores, decent cafes and pleasant atmosphere, you can also find the big branches of the famous hairdressers-beauty centers such as Tony&Guy, Erdem Kıramer and Ebil. Moreover, you can take a break in one of the dozens of classy cafes or restaurants such as Starbucks, Divan, Kırıntı along the street after shopping for hours.
Nişantaşı is the favorite at all times with its classy boutiques, cafes, restaurants, street exhibitions, festivals and new year entertainments.
The Grand Bazaar looks like a huge labyrinth with its approximately 60 streets in the area between the Nuruosmaniye Mosque and the Beyazıt Mosque. It is the world's oldest and biggest covered shopping center.

In Beyoğlu, the shopping spots from a boutique on a corner of a passage, to the stores of world-known brands tell you that you can go shopping in Istanbul in all seasons.
The passages are like small towns and create their own fashions that attract many people to Beyoğlu for shopping.
If you do not want to miss any part of the wshopping areas of Istanbul, or do it with a guidance of a local you may check already existing shopping tours in the town.
---
Leave a Comment
You can also write your personal comment with