The pearl of Istanbul: Beyoğlu
Beyoğlu is as ancient as Istanbul, as diverse as Turkey and a colorful mosaic of many cultures; traces of which are at each corner.
Beyoğlu is the small version of Istanbul. At the same time, it is as ancient as Istanbul, as diverse as Turkey and a colorful mosaic of cultures. Beyoğlu, also called Pera, is able to embrace all kinds of people, shops, cafes, bars, cinemas, theaters and restaurants. Here, you can see every aspect of Istanbul.
Beyoğlu, which has been hosting people of different races, languages, religions and cultures for thousands of years, is not only the center of art and entertainment life, but also has been a center for trade for centuries. In the present Beyoğlu region, mainly Genoese, Byzantine and Ottoman influences are visible, particularly in Galata and Pera. Various ethnic groups living in this region have played a great role in establishing the current texture of Beyoğlu.
Beyoğlu is comprised of regions such as Taksim Square, Cihangir, Tarlabaşı, Galatasaray, Galata and Tünel. All have their own unique features, and streets which are active 24/7. Let's explore...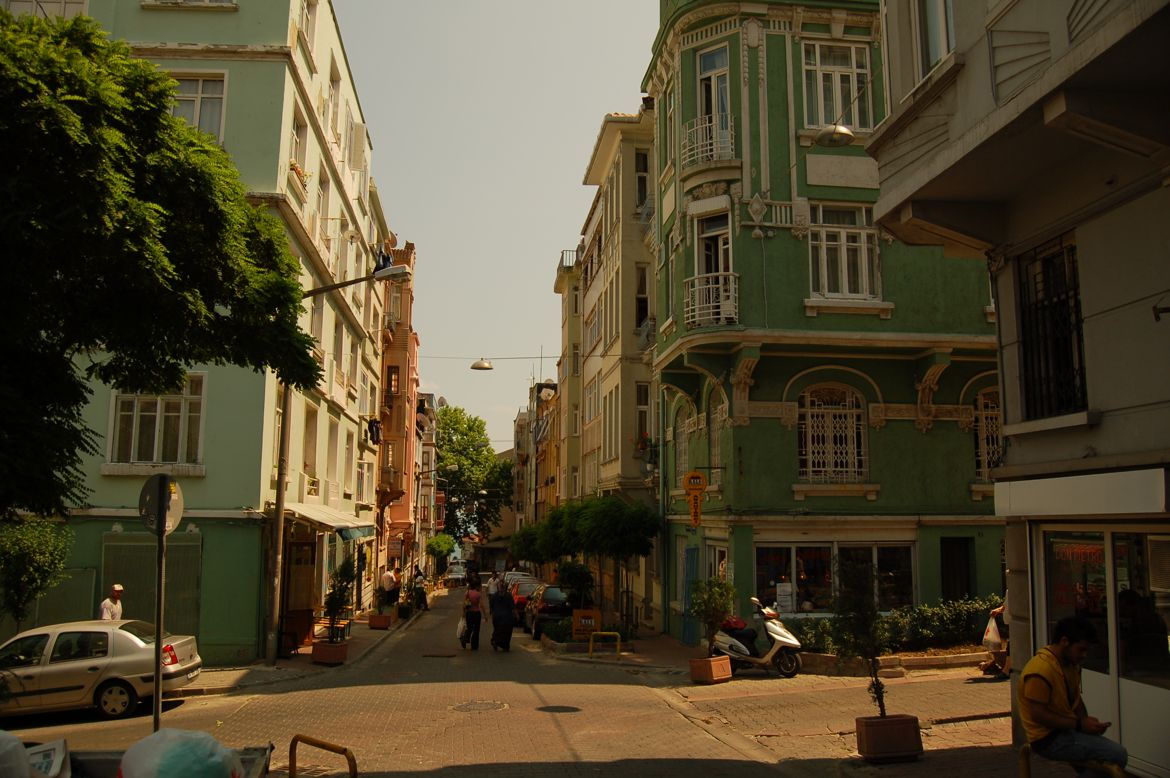 Let's start with Taksim Square. This place is the intersection point for all the roads leading to Dolmabahçe, Maçka, Şişli, Şişhane, Tünel and city's life. In fact, in Arabic the word "taksim" means "to distribute", "to share" and "to scatter". In the past, water was distributed to the city from this region, which gave it its name.
When you go to Taksim Square, the first building that attracts your attention will be Atatürk Cultural Center with its majestic appearance. Atatürk Cultural Center is one the most significant institutions where various types of art such as theater, opera, ballet, dance and music were performed. Now it is under restoration process.The center of the square is honored with the presence of The Monument of Rebuplic. This monument exposes how the Turkish nation emerged from the War of Independence with victory and founded the Republic. In official festivals it becomes even more splendid, embellished with colorful garlands. The monument can serve as ideal place to start advancing your travel through the active streets of Istiklal Avenue.
The perfect place for a snack: Square buffets
Before stepping into the Istiklal Avenue, you are welcomed by the square buffets just across from the tram stop. These square buffets are open 24/7 and they are ready to serve snacks as you stand. The "main course" in these buffets is the "döner kebab", an indispensable taste of Turkish cuisine. The other special flavors of square buffets are the hamburgers prepared in a special sauce, toast, and the mixed fruit juices.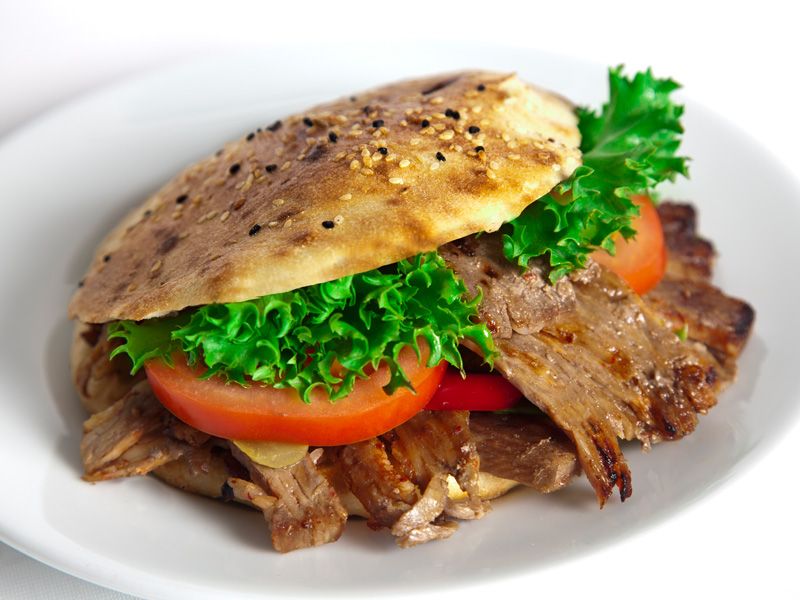 Beyoğlu has the most active night life in Istanbul, and upon leaving the entertainment locations under the early light of the morning, the residents of Istanbul come to these buffets. We recommend you try Bambi, with its delicious sandwiches and fruit juices, and Kızılkayalar with its hamburger in a special sauce. Another region we suggest you visit is Talimhane. This region is closed to traffic. The most significant characteristic of Talimhane is that hotels of all economic levels are lined up side by side in this area.
Beyoğlu's vital point: Istiklal Avenue
Beyoğlu's vital point is Istiklal Avenue without doubt. This avenue is the most important part of the unique texture of Beyoğlu. The locations for food and drinks, entertainment and culture-arts are lined up one after another along this street. Perhaps the most important feature of Istiklal Avenue is that life goes on nonstop in cycles of 24 hours.
Maybe the most significant symbol of this avenue is the nostalgic tramcar that extends from Taksim Square to the Tünel. The crowd reaches its peak in this street particularly at weekends, as it is flooded with visitors and the residents of Istanbul. In fact it is said that human circulation on the street approaches over 2 million during the weekend.
The avenue has the scent of history with its buildings which bear the traces of 17th and 18th century architecture: churches of various sects and periods, apartments decorated by Christian figures such as angels and Virgin Mary, and trade inns line the street.
Istiklal Avenue and its back streets contain restaurants which address a wide range of tastes and flavors to suit to all budgets. It is possible to find restaurants that offer tasty Turkish and Ottoman cuisine as well as others that serve delicious meals of international cuisine. There are bars and entertainment places where various types of music such as rock, jazz, pop, dance, alternative, Latin, and reggae are played. Particularly in recent years, the number of clubs playing electronic music has increased. The avenue starts to get lively after 22.00 and is dynamic until 05.30 in the morning
.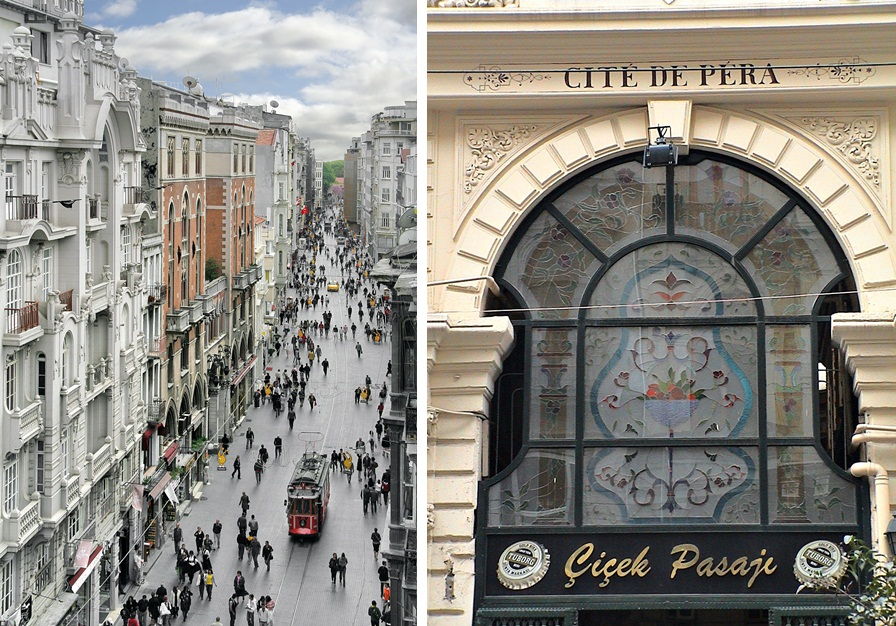 The cradle of the meyhane culture: Nevizade
When talking about Istiklal Avenue, one should also mention Meyhanes. Meyhanes form the common culture for the Turk, Armenian and Greek people and they are located along the Istiklal Avenue and its narrow streets particularly on Çiçek Arcade and Historical Nevizade Street. In Meyhanes, rich dining tables feature various Mezes that are accompanied with Rakı. The custom is to taste Mezzes slowly sipping the Rakı and listening to the Fasıl music over a long period of time.
As for shopping...
Istiklal Avenue is shopping heaven, where shops are located within historical passages and inns. Here, you can find many different alternatives, from all kinds of giftware to second hand clothes.
The avenue hosts thousands of shops where you can find all kinds of original clothes and accessories from jewelry to incense, from wigs to perfume, from hats to scarves. In some passages there are only antique bookstores where you can buy second hand books.
In addition, Çukurcuma, located in Cihangir quarter, is a center for antique dealers. It is possible to find all kinds of antique furniture and home accessories in numerous shops of all sizes. Moreover, it is possible to find special clothes used over different points of history. If you come across the small bazaar set on Sundays, we recommend you to take a tour.
The primary address for cultural and art activities
Along Istiklal Avenue it is possible to come across many cinemas, theaters, art centers and art galleries.
Every year, the street hosts events such as the International Istanbul Film Festival or Istanbul Jazz Festivals, and since such activities intensify particularly during the summer months, the art lovers of Istanbul and students visit the avenue during that season. There are also the embassies of countries such as Netherlands, Sweden, Russian Federation, Britain, Greece, Italy and Spain on this avenue. At the same time, the street hosts cultural centers of different countries.
Cihangir with its unique atmosphere
Cihangir is the pearl of Beyoğlu. It is the calm side of Beyoğlu, with its historical houses, cats, mild slopes -and perhaps its most important characteristic- its "mahalle" (neighborhood) culture, which is gradually dying out. Cihangir is both steady and changeable, with its inhabitants who have been living in the same place for years. It is famous for its cafes and restaurants. The inhabitants of this district are mainly the foreigners living in Istanbul, authors, artists, journalists and students.
Just below Cihangir and right near the seashore is the Tophane district. This place is adorned with historical fountains and mosques, and Istanbul Modern Art Museum, one of the important platforms of art world. You can enjoy a water pipe (nargile) , tea and backgammon in the cafes lined up side by side next to the historical buildings.
After a short walk towards Karaköy you may stop at the famous Güllüoğlu and taste baklava or you may go on for a little while and enjoy the taste of fried mussels and beer in Karaköy Dock.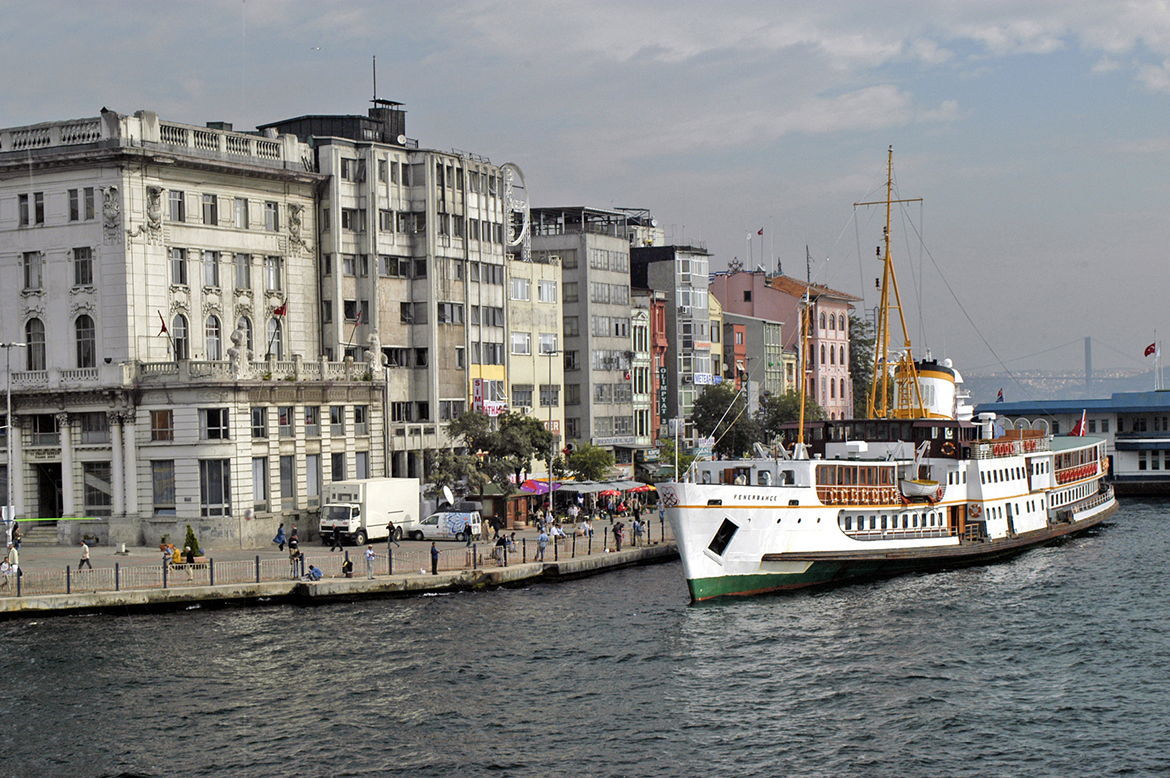 Istiklal Avenue extends from Taksim Square to the Tünel and doubtlessly, it is the vital point, the rare and precious part of Beyoğlu. You can either walk along the avenue and explore it, or get on the nostalgic tram and watch the two sides of the avenue: both options will give you different experiences. In the right and left sides of the street, there are famous fast food, pide and kebab restaurants; along with other restaurants serving delicious examples from the world cuisine. Do you feel like seeing a movie? There are cinemas with a couple of salons along the street or at cross streets. Or maybe you would like to go to the opera or the theater. In that case you can go to State Theaters or private theaters. You can drop by the galleries you come across on the road. If your intention is to drink something and dance, you may go to the bars, pubs and nightclubs serving to all kinds of music taste.
It is possible to walk from one end of the avenue to the other in 20 minutes with quick steps. It awaits you with hundreds of shops, venues, restaurants, cultural-art centers. Beyoğlu is in constant change, renewing itself all the time. Beyoğlu is a place where the historical texture is blended perfectly with the opportunities meeting all the demands of the modern life, and this is the reason why Beyoğlu is the pearl of Istanbul.
---
Leave a Comment
You can also write your personal comment with