Miniaturk: Turkey in a nutshell!
This museum reveals the cultural and architectural heritage of 3000 years of Anatolian history at a glance.
Let us suppose that you are in Doğubeyazıt and you are visiting Ishak Paşa Palace. But then you decide that you have an urge to see the Ulu Camii in Bursa. What would you do then? In Miniaturk, you only have to walk for a couple of minutes. Stone Houses of Mardin, Sümela Monastery, Mostar Bridge, The Blue Mosque, Izmir Clock Tower, Mevlana Mausoleum, Peribacaları (chimney rocks), Ephesus-Celsus Library, Pamukkale, Temple of Artemis, Altar of Zeus, Dolmabahçe Palace, Topkapı Palace, Anıtkabir (Atatürk Mausoleum), Çanakkale Martyrs' Monument… These and hundreds more dwellings, bridges, palaces, mosques, sanctuaries, towers built by people who lived and established civilizations in Anatolia; geographically formed areas... Historical and monumental buildings, every one of which is located in a different part of Turkey. The cultural and architectural heritage of Turkey has been brought together in Miniaturk. But not only Turkey is represented. For example, Kubbet-us Sahra and Mescid-i Aksa in Jerusalem, Atatürk's house in Salonika, Castle of Ecyad in Mecca; they are all here in Miniaturk. When you step into Miniaturk, Mini-Turkey Park, you find yourself surrounded with models of our heritage, which have been prepared with elaborate and painstaking work.
Miniaturk, which opened on May 2, 2003 consists of three main parts established over an area of 60 thousand square meters. The largest is the 15-thousand-square-meter area of models in this Mini-Turkey Park. The other two parts are Miniaturk Panorama Victory Museum and Crystal Istanbul.
Mini-Turkey Park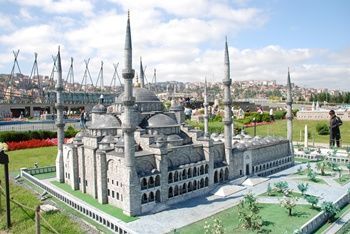 Works exhibited at Miniaturk were selected by Prof. Dr. İlber Ortaylı and Associate Prof. Ahmet Haluk Dursun, and reproduced after being scaled down by 1/25, the standard ratio in the world for miniature museums. As all the models are reduced equally, it is possible to compare one building to another. Even the human models have been produced according to this 1/25 proportion. In this way you can make out the actual sizes of the buildings by looking at a small human standing by a model building. The only model exceptional to this proportion in the park is the 43-metre-long Bosphorus Bridge, on which you can walk. The model of the bridge has been built according to a proportion of 1/23, which allows visitors to walk on it easily and safely.The models are prepared so elaborately that one cannot help but admire them. The stone work of Haydarpaşa Station, of the minarets of the Blue Mosque, and of the Taksim Republic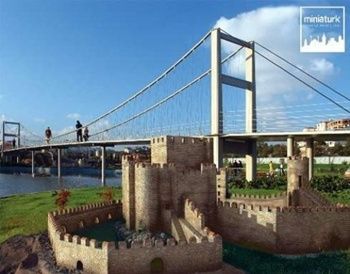 Monument are authentically presented.
Behind this exquisite work lie the collective efforts of ten domestic and three foreign workshops. Building surveys of the originals were prepared, and production was immediately started. In addition to the thirteen workshops mentioned, pieces were produced for Miniaturk in Yıldız Technical University, Dokuz Eylül University and other establishments. When we asked Tolga Tartan what material is used to make the models seem so authentic, we were told that the painting technique made them looks as though made from stone. A material called "siba" was used, which is so durable that nothing happens to the models even if they stayed under snow for two weeks. Sometimes fiberglass was used as well, but the main material was siba. When we researched siba, we learned that it was a polyurethane used in model making, resistant to open air conditions and more pliable than wood, and easy to work on.
Works are introduced in six languages
While we are walking around the park, we hear a familiar voice aside from the music. It is the voice of the City Theatre actor Mazlum Kiper. There is an audible guide system in front of every model. You show your ticket to the optical reader of the system and that familiar voice tells you, in Turkish or in English, the history of the building and where the original building is. The system is not limited with Turkish and English introductions, but it gives information in six languages including French, German, Arabic and Russian.By the way, the music we hear walking in the park is composed by the famous Turkish composer Fahir Atakoğlu, particulary for Miniaturk.


Çanakkale cannot be passed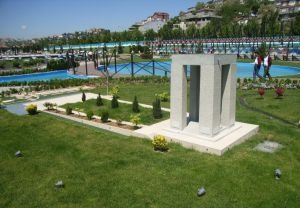 Miniaturk Panorama Victory Museum was opened on December 25, 2003. In the indoor Panorama, there are impressive nonverbal stories of both the Battle of Çanakkale and the War of Independence, supported with sound and light effects. The moment you step into the place, you are greeted by soldiers and cannons positioned around The Çanakkale Strait, and wounded soldiers with nurses taking care of them. As you go forward, the scene changes and you begin to accompany those setting off from villages and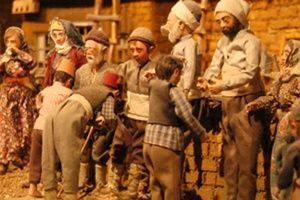 carrying ammunition to the battlefield. There is also an Atatürk photographic exhibition, opened in memory of the 80th year of the republic.

Glass statuettes of Istanbul can be found in Crystal Istanbul.
The Galata Tower, The Hagia Sophia, St. Antoine Church, The Maiden's Tower, Çırağan Palace, Süleymaniye Mosque, Istanbul University are all embroidered in crystal blocks, revolving slowly. Crystal Istanbul, the world's first and only crystal museum, exhibits sixteen artifacts of Istanbul with colored lighting in a darkened exhibition room. It gives Miniaturk different flavour. It is possible to see Rumeli Fortress, Fatih Mosque, Dolmabahçe Clock Tower and Eyüp Sultan Mosque among the works embroidered in glass via laser.
Miniaturk, bringing the 3000 year history of Anatolia and its neighbors to the present day, is a rare opportunity for those who want take a unique Turkey tour in a couple of hours. The price of the tour is 10try for the full fare. The museum is open between 09.00 a.m. and 06.00 p.m. everyday.
---
Leave a Comment
You can also write your personal comment with