Istanbul's Amazing Yıldız Palace
Yıldız Palace, which is located in Beşiktaş, was built in honor of Mihrişah Sultan, mother of Sultan Selim III. The palace was also one of the four centers from where the Ottoman Empire was being administered.
When the Ottoman Sultan Selim III had this palace built as a villa for his mother Mihrişah Sultan and named it "Yıldız" (meaning `star`), the district where the villa was located started to be known as "Yıldız" as well. In the following years the villa was broadened with the addition of several villas and smaller summer palaces during the reigns of Sultan Mahmud III, Sultan Abdülmecid and Sultan Abdülaziz. When it came to the reign of Sultan Abdülhamid, it received the name of Yıldız Palace with the new building additions, and it became the fourth administration center for the Ottoman Empire after the Eski Saray (Old Palace), Topkapı Palace and Dolmabahçe Palace.
One of the most important parts of the Yıldız Palace is the "Şale Villa". The Villa is composed of three main buildings which were built adjacently and in different times inside a garden. It is known that the first of these three villas were built in 1880 by the architecture Sarkis Balyan, the second one which is known as the "Merasim Villa" in 1889 by the architecture D'Aranco and that the third one was built in 1898. The villas have three floors and made of wood and stone. There a total of 60 rooms and 4 saloons, and it is possible to see lots of details reflecting the influences of Baroque and Islam in the design and the decoration of the palace.
The most appealing parts of the palace are the "Yellow Saloon" whose ceiling is decorated with scenery pictures, the "Saloon with Mother-of-pearl" which draws attention with its inlaid mother-of-pearl decorations, and the "Ceremony Saloon" whose floor is covered with a single Hereke carpet from one wall to another and hose ceiling is decorated with golden gilded panels. The valuable stuff from various European countries, china vases and engraved furniture within the palace are among the typical characteristics of Ottoman Palaces.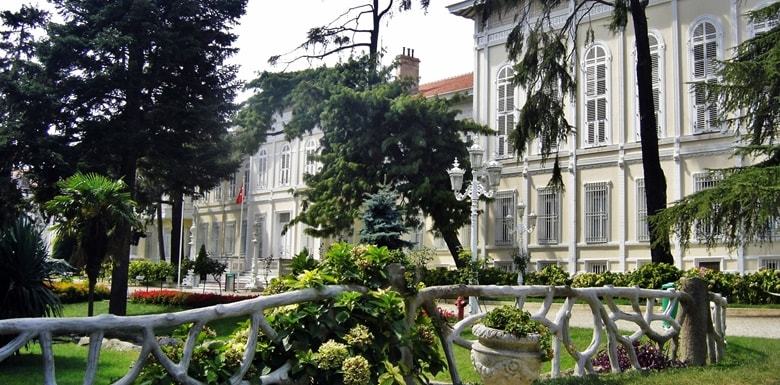 You can visit the Yıldız Palace, between 09.30 and 17.00 during summer time, and between 09.30 and 16.00 during winter season.
Address:Barbaros Bulvarı (Boulevard) Yıldız Park, Beşiktaş
Telephone: 0212 259 89 77
---
Leave a Comment
You can also write your personal comment with