Basilica Cistern
The Underground Cistern in Sultanahmet was constructed at the time of Byzantine Empire in order to meet the water needs of the city. This historical place is a mysterious place to visit in Istanbul.
Cistern Basilica
Fifty two steps, a jungle of three hundred and thirty six columns, an enchanting and uncanny darkness, and the phosphorescence of the water...like a secret underground kingdom, which has waited for fifteen hundred years for the sun's light to illuminate it.
Don't be mistaken when reading these incredible words: This historical and mysterious place actually exists in Istanbul. It is the water cistern, which was built by the Byzantine Emperor Justinian the First (527 – 565) in order to meet the water needs of Constantinople.
Due to the fact that Constantinople era Istanbul was constantly besieged during the Roman and Byzantine periods, it was constantly in need of a regular supply of water. To meet this need, a great number of cisterns were constructed during both eras. The Yerebatan Cistern, which is also known as the Basilica Cistern, is the largest and most impressive of all of the cisterns in the city. The Yerebatan Cistern amazes all of its visitors with its marble pillars. Indeed, one might even think that such a magnificent space could, in fact, be a castle.
Medusa, with snakes for hair…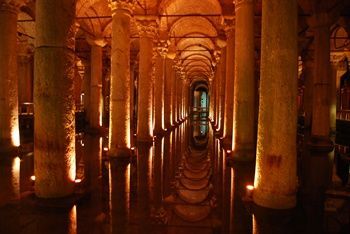 One of the essential elements of the magical atmosphere of the cistern is the head of Medusa. Designed as the base of one of the columns, Medusa's head is covered with snakes for hair. According to Greek mythology, Medusa, a female monster of the underworld, had the ability to turn people to stone with her gaze. The two Medusa heads located in the cistern are beautiful examples of sculpture from the Roman period. Although no one knows exactly how the Medusa heads were brought to the cistern, it is clear that they have spawned many legends about the cistern.
The cistern, which answered a need for water during the Byzantine era, was used to water the garden of Topkapı Palace after the conquering of Constantinople. Because Muslims consider running water healthier than standing water, the cistern lost its function of providing water for the city. Following a series of renovations, it was reopened as a museum.
On occasion, the cistern also plays host to a variety of concerts and cultural events. While there, you can have a coffee at its cafe while absorbing yourself in the magical atmosphere of your surroundings.
Address: Yerebatan Cad. No: 13, 34410 Sultanahmet-İstanbul
Telephone: +90 212 522 12 59


---
Leave a Comment
You can also write your personal comment with