Istanbul, the shopping heaven!
We can characterize Istanbul, located right in the middle of the Asian and European continents, exactly as a shopping heaven with its shopping centers at global standards, districts that individually stand as shopping venues, and authentic shopping arcade
We can characterize Istanbul as a shopping heaven both for its location at the critical point where trade routes passing through Europe and Asia intersect, and also for its status almost like a "capital city" of Turkey in textile, handworks and giftware production.
It won't be wrong if we say "every season is a shopping time" in Istanbul responding to all demands of consumers thanks to its affordable prices and very special stores. All shopping sites spanning from a petty boutique hidden in an ordinary shopping arcade to prestigious stores of a globally renowned brand swarm with people all the time.
If you target to do shopping as soon as possible in such a big metropolitan city, you should strictly designate your shopping route beforehand. Because the most remarkable character of Istanbul is that you can find particular things only at particular points.
Giftware Peculiar to Istanbul
If you are seeking articles and flavors that are peculiar to Istanbul, places we will recommend you will certainly be Grand Bazaar and Egyptian Bazaar. In these places where you can find alternatives such as authentic giftware, spices, leather garments, Turkish delight, carpet, rug and ornamental jewelries, you can at the same time have the opportunity to visit a historical building or take a stop at cafés and restaurants around. You can find detailed information on such places in our web site.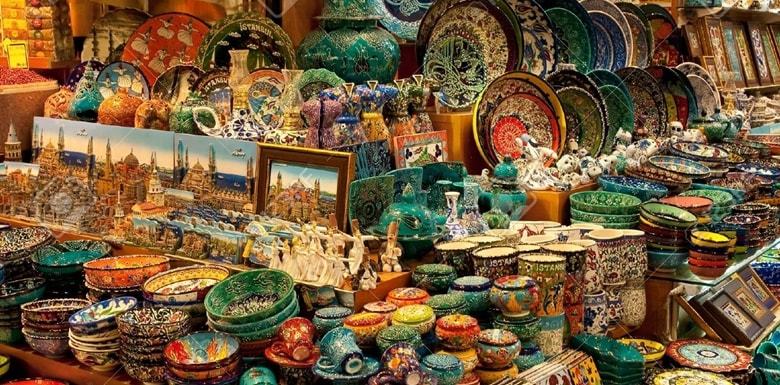 Venue of Alternative Shopping: Beyoğlu Shopping Arcades
If you again wish to see stores selling interest giftware, alternative garments and second hand clothing, we recommend you especially the shopping arcades in and around Beyoğlu. In these places, you can both do shopping on one side and also have the chance to respite in cafés and restaurants there on other side.
You can also find detailed information about vintage shopping in Beyoğlu, here.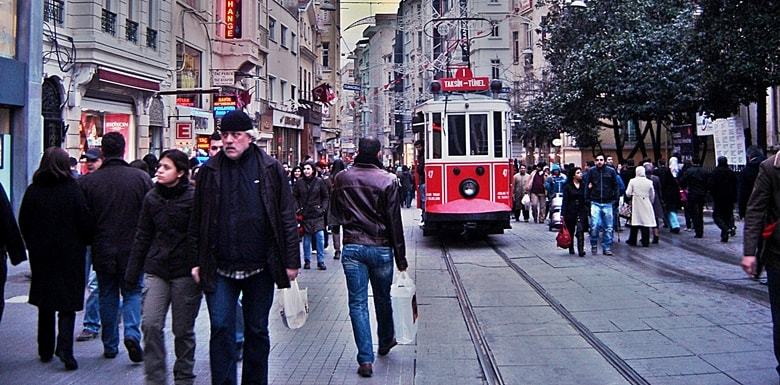 Cheap, Diversified and Entertaining: District Bazaars
Now let's turn to another peculiar shopping phenomenon of Istanbul; namely the bazaars… Some of the bazaars that have a very distinguished standing in the shopping culture of the town are set in certain districts of the town in certain days of the week. These bazaars are usually referred with the name of the day in which they are set such as the Thursday Bazaar, Tuesday Bazaar, Saturday Bazaar etc. Furthermore, there are fixed bazaars that are permanently resident in certain districts of the town and they generally sell food articles.
The most remarkable bazaars of this type in terms of variety and size are as follows: Tuesday Bazaar (Kadıköy), Saturday Bazaar (Beşiktaş), Wednesday Bazaar (Yeşilköy and Fatih).
Ok, let's talk about what you can find in these bazaars. You can find alternatives spanning from fruits and vegetables to every sort of garments, shoes, bags, bathware and kitchenware as well as table and cushion covers, ornamental jewelries and swimming suits. Besides you can bargain with the dealers of these products and welcome very affordable prices.
The Venue of Fast and Comfortable Shopping: Shopping Centers
If you aim to examine creations of principal brands in big shopping centers, then we recommend you to head towards Maslak, Levent and Etiler. Big shopping centers in these districts are in the nature of a meeting point of plenty of reputable brand marks of the world. Furthermore, recreation facilities such as cinema, theatre hall and restaurants at these centers at these centers exhilarate your shopping.
The "guide" pages we have prepared will provide you with detailed information about the alternatives that you will be able to find at those places.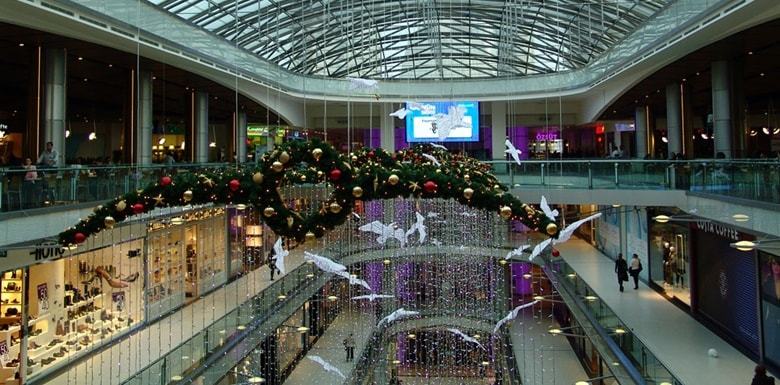 Let's talk about special discount shops of particular brands… As we tried to highlight before, it is possible to find plenty of discount shops in Istanbul that are swiftly turning out to be the most remarkable textile centers of the world. In outlet stores of principle brands in centers such as especially Maslak, Yenibosna, Güneşli, Maltepe and Kozyatağı, it is possible to find slightly flawed or season-end products at very affordable prices.
In Istanbul, there are two different shopping centers accommodating discount stores of exclusively very special brands of the world. Olivium Outlet Center in Zeytinburnu and Colony Outlet in Küçükçekmece gather this kind of stores under a single roof.
Textile and Leather
Especially after the moving of factories and workshops of textile companies to Merter as a whole, the district has turned exactly into a textile heaven. In Merter where the wholesale and retail outlets of ready-to-wear and leather companies, you can purchase every sort of clothing at very affordable prices.
At the same time, you can find leather pants, coats, jackets, shoes or bags on wholesale or retail offering in big leather companies lined up in Zeytinburnu at very affordable prices.
Turn shopping in Nişantaşı-Teşvikiye into a delight!
When shopping is the issue, it is indispensable to talk about Teşvikiye and Nişantaşı. In the Teşvikiye and Nişantaşı district where dealers of almost all reputable brands are located, the street coffeehouses between the stores, cafés and bars turn shopping exactly into an amusement.
If you prefer to walk around outdoor rather than shopping center, and if you sometimes want to sit at a café and get the utmost enjoyment out of watching the crowd of the street and the distinguished historical buildings, Nişantaşı and Teşvikiye perfectly fits you.
You can find more about Nişantaşı-Teşvikiye here.
When one talks about shopping, the first-place recurring to the mind is undoubtedly the Bağdat Street. Like in the Nişantaşı-Teşvikiye region, you can find the dealers of plenty of brands concurrently on this very special street.
Do not forget to stop off at one of the distinguished cafés and restaurants once you come to the Bağdat Street that is one of the most special shopping venues of Istanbul.
---
Leave a Comment
You can also write your personal comment with