Istanbul Concert of Velvet Voice Hindi Zahra!
Garanti Jazz Green Festival presents Hindi Zahra! This special voice will meet her fans in Istanbul on April 20th and 21st.
The voice of Hindi Zahra keeps enchanting people from all over the world! Half French half Morrocan singer has a special ability of mixing Jazz and world music in such a successful way that she is one of the most listened singers in USA and Europe. And now, she is in Istanbul, Turkey!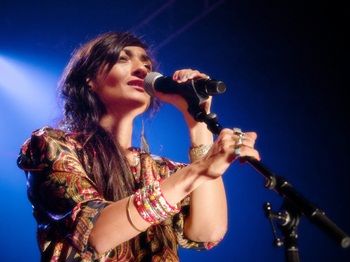 This young, successful and lovely artist released her album named 'Handmade' in 2010. The production and arrangement of the 'Handmade' 100% belongs to Hindi Zahra and is a great example of mixture of Jazz and Morroccan sounds. Book your tickets to get a chance to listen to her hit songs such as "Beautiful Tango" and "Imik Si Mik" live at Babylon!
*Hindi Zahra concerts will take place on April 20th and 21st.
---
Hindi Zahra Concert

at 20:30
Ticket Prices
Limited Advantageous 61.75TRY
Normal 78.50TRY
At the door 80TRY

Place: Babylon