Istanbul Chora Museum
Caria Museum, which is located in the neighborhood of Edirnekapı district of Istanbul, houses many mosaics and frescoes from the Byzantine Era.
Caria Museum is located on the Historical Peninsula in the neighborhood of Edirnekapı. With its incredible mosaics and frescoes, dating from the later period of Byzantine pictorial art, the Caria is one of the most important museums in Istanbul.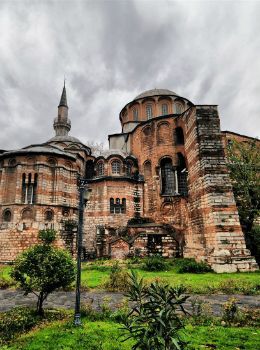 There is no exact data concerning the date at which the Caria Museum was built. However, according to available sources, the decision to build a church at the site of an old chapel lying outside of the city walls was made during the reign of Emperor Justinian (669 – 711). Over time, the structure continued to undergo various restorations; furthermore, it was completely renovated near the end of the 11th century. After suffering significant damage during the time of the Crusades and the Latin occupation, it was repaired by Theodoros Metokhites, one of the prominent people of the time. The mosaics and frescoes located in the church were first added during this period.
Following the conquest of Constantinople, the Church of Caria was turned into a mosque. Much later, during the first years of the Turkish Republic, the building was rechristened as a museum. During the time that Caria was used as a mosque, its mosaics and frescoes were covered up, and, therefore, fortuitously preserved in a magnificent fashion. Between the years of 1948 and 1958, they were fully restored through the efforts of the American Byzantine Institute.
Two masterpieces, the "Resurrection" and "Last Judgment" mosaics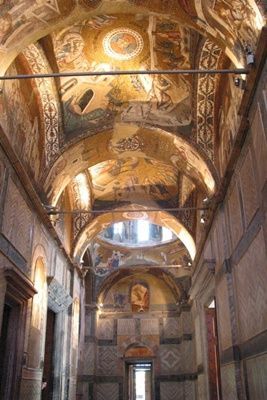 The mosaic that hangs over the entrance to the church is one of most impressive works of the Caria Museum. This mosaic depicts Theodoros Metokhites giving a miniature replica of the church to Jesus. Yet another striking mosaic portrays Jesus in its very center, with Mary to his left, and Isaakios Kommenos beneath her. To Jesus's right, there is a nun.
One of the mosaics in the museum relates a story about Mary that does not appear in the Bible: The story of Mary's birth and infancy, and the appearance of the Archangel Gabriel, who informed Mary that she would give birth to a baby. The mosaic in the main part of the church, on the other hand, depicts Mary's death. In particular, the frescoes that portray the "Resurrection" and the "Last Judgment" are each masterpieces. 

You can visit the Caria Museum between 9:00 a.m. and 5:00 p.m, on every day of the week except for Wednesday. The entry fee is 15try.
---
Leave a Comment
You can also write your personal comment with