Gülhane Park
Gulhane Park is the oldest public park in Istanbul. Once part of the grounds of Topkapı Palace, this large park is open to the public and offers a welcome respite from the crowds of nearby Sultanahmet.
Once a part of Topkapı Palace, amazing Bosphorus view and unique flora of Gülhane Park was hidden from public.
Popular with locals and tourists alike, Gulhane Park has wide paths, flowers, water features, and a large number of gracious and established plane trees, some dating back to the 19th century. It also houses a variety of statues, including one of the Turkish Republic's founder Mustafa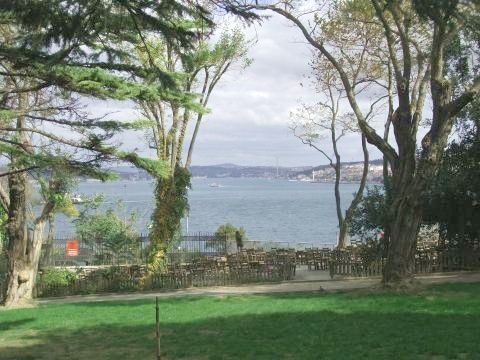 Kemal Atatürk, as well as the Roman Goth's Column which commemorates a Roman victory over the Goths.
Views of the Bosphorus Strait and Marmara Sea can be enjoyed from one of the tea gardens that line the northern end of the Park. There are also a number of benches around, but competition for a seat is fierce. Outside the park, there are a number of kiosks selling snacks, drinks and the famous Turkish ice cream, which is especially popular during the summer months.
Gülhane Parkı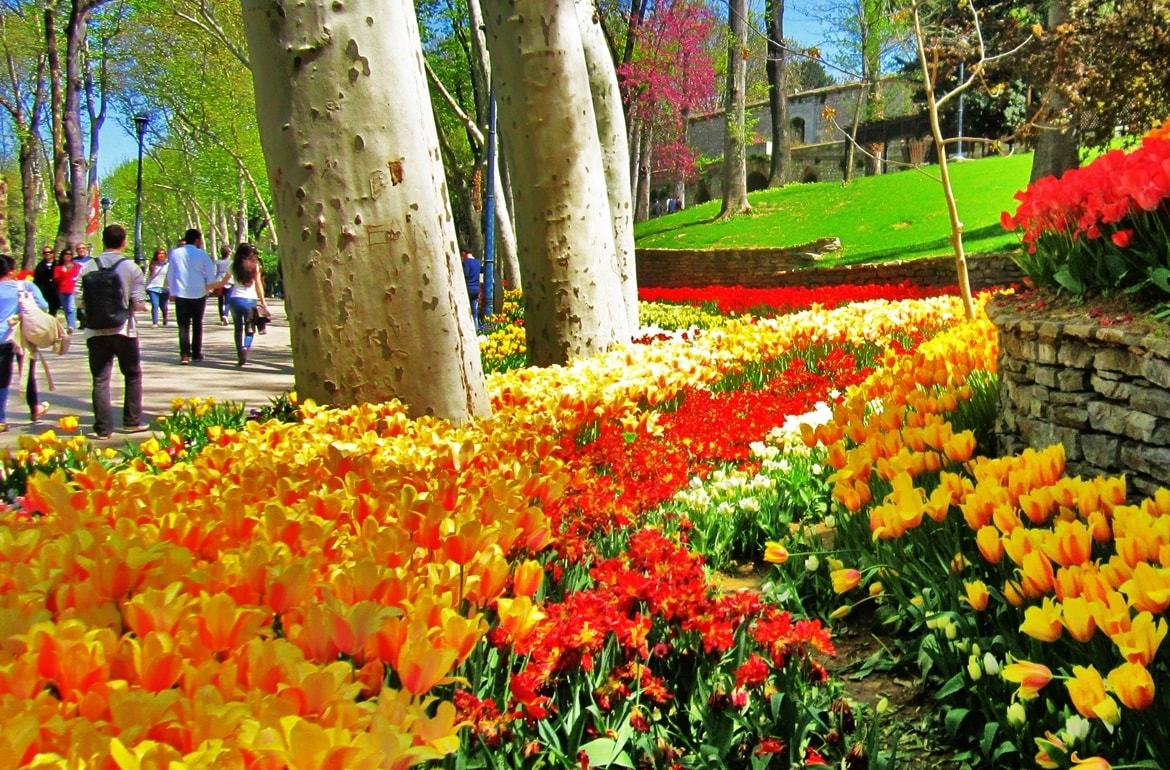 Baharda Gülhane Parkı'nda açan rengarenk laleler.
Gülhane Parkı
Eminönü üzerinden yolculuğunuza devam edip, şarkılara konu olan Gülhane Parkı'na doğru yol aldığınızda göreceğiniz yol, inanılmaz güzellikte bir yol olacak. Ardından parka vardığınızda, İstanbul'un en güzel manzaralarından biriyle karşı karşıya kalacaksınız. Manzarının tadını çıkardıktan sonra Topkapı Sarayı'nın duvarlarının takip ederek sarayın muhteşem kapısıyla karşılaşabilirsiniz.
Gülhane Parkı
Topkapı Sarayı'nın dış bahçesi, şimdinin Gülhane Parkı muazzam güzelliğinin yanında Osmanlı İmparatorluğu'nun son zamanları ve Cumhuriyet'in ilk yıllarında tarihin önemli olaylarına da ev sahipliği yaptığından tarihi önemi de büyüktür. Tanzimat Fermanı'nın okunduğu yer olduğundan Gülhane Hatt-ı Hümayun da denilen park, Atatürk'ün latin harflerini halka tanıttığı yerdir de aynı zamanda. Parkta tarihi mirasın yanında Aşık Veysel heykeli, Roma döneminden kalan Gotlar Sütunu ve İslam Bilim Eserleri Müzesi de vardır.
Gülhane Parkı
Tarihe imza atmış pek çok önemli olayın şahidi bir park… Tanzimat Fermanı burada okundu, Latin harfleri halka burada tanıtıldı, Atatürk'ün naaşı Ankara'ya defnedilmeden önce İstanbul'daki son törenle burada yapıldı. Eskiden Topkapı Sarayı'nın dış bahçesi olan park, zaman geçtikçe yapılan düzenlemelerle bağımsız bir yapıya kavuştu. 2003'te Büyükşehir Belediyesi'nin parkı restore etmesiyle uzunca süre devam eden perişan görüntüsünden kurtulan park, yürüyüş yapanlar ve yeşili sevenler için ideal bir mekân haline geldi.
---
Leave a Comment
You can also write your personal comment with