Ferry and Seabus in Istanbul
Istanbul is surrounded and divided by water. Because of this you'll see a bustling activity of floating devices on the Bosphorus, the Marmara Sea and in the Golden Horn.
Drifting on Bosphorus
---
A whole array of water-borne craft, ranging from privately owned (fishing) boats, over regular ferries (vapur) to a fleet of high-speed catamaran sea buses (deniz otobüsü) serve as transport around the city.
IDO, Istanbul's Fast Ferry and Sea Bus Company, is the market leader and offers visitors and locals alike probably the most relaxing and quickest method of transportation available in Istanbul, almost as comfortable as your flight to Istanbul, Whether you want to go up and/or down the Bosphorus, travel between the European and Asian shores, or make a short trip to the Princes' Islands, they have a suitable and cheap solution for you.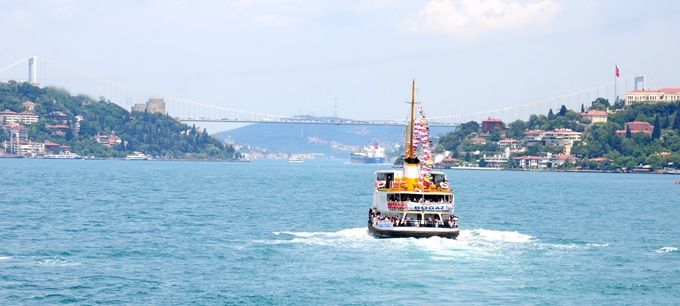 ---
Destinations, Schedule and Ticketing Differences
---
IDO operates on inner-city and inter-city lines. Inter-city lines head for places such as the Marmara Islands, Bursa or Bandırma, which are all located outside of Istanbul. For these destinations you need to make (online) reservations, preferably a few hours or a day ahead.
But in this article we'll focus on the inner-city lines, since that is what 99.9% of tourists need during their stay in Istanbul. To avoid any confusion, the Marmara Islands mentioned earlier are NOT the same at the Princes' Islands. If you want to visit Büyükada, you are heading for the Princes' Islands, and they luckily are inner-city.
For inner-city lines you don't need to make reservations. To get on board, you can either buy a token (jeton) at the pier, or use your akbil. The only exception is the Bosphorus Tour (by Night), for which you can't use your akbil and need to pay cash to obtain a ticket.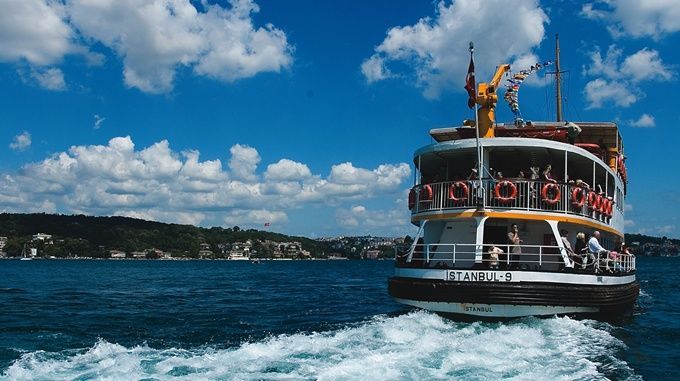 ---
High-speed ferry or sea bus
---
Each destination and every type of boat has its own schedule and dock (see below). Moreover, in wintertime (mid September to mid June) and summertime (mid June to mid September) different timetables apply. Timetable booklets are freely available in Turkish and English at all ferry terminals or online on the excellent İDO website.
Most of the typical tourist destinations are reachable by both types of boats. It's up to you to decide which craft to use, based on your personal preference. Let me list the pros and cons of the two ferry types.
---
Conventional Ferries
The principal ferry dock on the European side is undoubtedly Eminönü. There are four piers with the destinations clearly written outside, above the boarding hall: Bosphorus (Boğaz), Golden Horn (Haliç), Kadıköy and Üsküdar. Another important dock is located in Kabataş, where you can take a ferry to the Princes' Islands.
On the Asian side, the main piers are located in Kadıköy (to Beşiktaş, Eminönü, Karaköy and the Princes' Islands) and in Üsküdar (towards Beşiktaş, Eminönü and Kabataş).
Pro:
- boats come and go frequently, on average every 30 minutes
- you can sit inside or outside on the deck and enjoy a tea & snacks
- fares are cheap, between 1.5try and 3try.
Con:
- they are much slower than the sea buses.
---
Fast ferries or sea buses
---
The interior of the high-speed catamaran ferries or sea buses resemble aircraft cabins, with long rows of comfortable seats and air-conditioning. The main docks are Bostancı and Kadıköy on the Asian side, and Kabataş, Yenikapı and Bakırköy on the European side. As a tourist, you'd only use this ferry type to reach the Princes' Islands from the Kabataş pier.
Pro:
- much quicker and more comfortable than the conventional ferries

Con:
- they are more expensive - there are only a few departures per day, mostly during commuter hours
- you can't sit outside on the deck
- they are more sensitive to bad weather conditions
*One last but important note: Smoking is prohibited on all inner-city ferries, even outside on the deck!
---
Table for Ferry & Sea Bus Lines
---
IBB Sehir Hatları (FERRY)

(Public)

Kadikoy- Eminonu

Kadikoy – Karakoy

Kadikoy – Besiktas

Kadikoy- Kabatas

Kadikoy – Prince's Islands

Uskudar – Eminonu

Uskudar – Besiktas

Haydarpasa – Karakoy

Kabataş - Kadıköy - Prince's Islands - Bostancı - & return

Long Tour: Eminönü – Beşiktaş – Kanlıca – Sarıyer– Rumeli Kavağı – Anadolu Kavağı

Short Tour: Eminönü – Ortaköy

---

Istanbul Deniz Otobüsleri-IDO (SEA BUS)

---

(Private Company)

Bostancı-Kadıköy-Yenikapı -Bakırköy

Bostancı - Kabataş

Bosphorus Line

Maltepe – Bostancı - Kabataş - Bakırköy

Bostancı - Kadıköy- Yenikapı - Bakırköy- Avcılar
---
Leave a Comment
You can also write your personal comment with