Divan Literature Museum
Divan Literature Museum is located in the Galata Lodge of Dervishes, which is the most ancient and greatest dervish lodge of Istanbul.
The building, which was used as a dervish lodge from its construction till the closing of convents, was turned into a museum in 1975.
The dervish lodges combined music and science for centuries and had a considerable impact on Turkish culture. Many people gathering around the lodges received an education in many branches of fine arts and put a mark on science as well.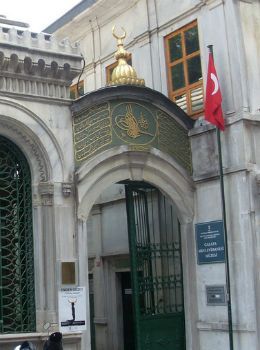 The lodge, which is located at one end of the slope descending to Yüksekkaldırım in Beyoğlu, was built in 1491. It is situated in what was once the hunting mansion of İskender Pasha, who was the governor-general during the Sultan Bayezid period. A fire damaged the Lodge -whose first sheikh was Mehmed Sema-i Çelebi - in 1766. The extant lodge was commissioned around this time. In the following years, the building underwent repairs in the periods of Sultan Selim II, Mahmud II and Sultan Abdülmecid. The Lodge continued its service until 1925 and was repaired again between the years 1967-1972. It was originally built as a complex of buildings and is comprised of a sema hall, dervish quarters, a sheikh quarter and sultan maksoorah, a women's section, library, fountain, clock room, kitchen, tombs and a treasury office. Sometimes there are religious sema dances, classical Turkish Music concerts and conferences held in the Dervish Lodge.
Address: Galip Dede Road No:15 Beyoğlu – Istanbul
Ph: +90 212 245 41 41
(Have you ever witnessed a Sufi Ritual? Astounding... )
---
Leave a Comment
You can also write your personal comment with