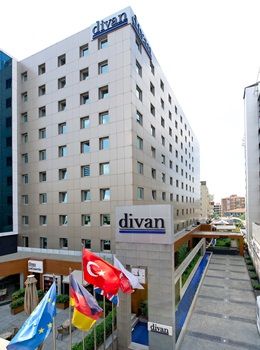 Divan Istanbul City is designed to provide guests with an optimal combination of convenience, comfort and superior facilities. Combining clean, modern style with a functionally elegant approach to accommodations, Divan Istanbul City offers business and leisure travellers warm, friendly efficient service and outstanding value-for-money.
Our Istanbul city centre hotel provides an outstandingly central location, just 20 minutes to Istanbul Atatürk International Airport with easy access to ring roads, the Bosphorus Bridge leading to the Asian side of Istanbul. It is also located in a major public transit hub, just two-minutes from the metro and dozens of municipal bus routes. The central hotel in Istanbul is also convenient to Istanbul's best shopping at the Cevahir Shopping Center, which is the second largest in Europe, the award-winning Kanyon Shopping Center, featuring the world's top luxury brands, as well as the Profilo and Metrocity shopping centres. Its central location also means that Divan Istanbul City also offers easy access to the Taksim Square culture and nightlife district as well as the historic sites of the Old City.
Divan Istanbul City's ergonomic guestrooms are designed to provide business travellers with the space and facilities they need to be at their best, including not only functional and comfortable work space for those last minute presentation updates but also comfortable furnishings and an extensive pillow menu to ensure guests are well-rested and ready for the big meeting.

Featuring a total of 162 rooms including 19 Small Single, 125 Standard, 9 Superior and 9 Junior Suites, Divan Istanbul City offers a comfortable stay in a modern and styling setting.
Properties:
Concierge
Limousine and VIP transfers
Safe deposit boxes at front desk
Foreign Exchange
Laundry & Dry Cleaning
24-hour Room service
Babysitting & Doctor, on request
Puri Spa - Score Fitness & Pilates
Car Park & Valet Parking
Meeting rooms with day light and terrace
Business Center
Cable and Wi-Fi internet access
Computer / Laptop rent
Projector, screen, microfon, flipchart
Meeting equipments
Photocopy and fax
Photo Gallery
Address Info
Address: Büyükdere Caddesi No:84 Gayrettepe 34398 İstanbul
Telephone: +90 (0212) 337 4900 - +90 (0212) 337 4949
Web: divanistanbulcity
E mail: [email protected]