Best Vegan and Vegetarian Restaurants in Istanbul
Istanbul is for sure a paradise for the ones who love to eat meat but it also has a lot to offer for vegetarians and vegans.
Being Vegan - Vegetarian in Istanbul
One of the things to do in Istanbul in order to explore the living, the culture and the customs of its people is of course to taste its traditional foods. If you are vegan or a vegetarian visiting Istanbul and do not know what to eat, you don't need to worry. Traditional flavors of Turkish cuisine are full of vegetable dishes and vegan sauces. Let us be your guide and give you some tips about vegan and vegetarian restaurants, street foods, desserts and food shopping.
Vegan - Vegetarian Restaurants
Community Kitchen
This newly opened vegan/vegetarian restaurant with its delicious, healthy and organic food serves something unusual too; Iskender. Iskender is a traditional dish that is actually a type of döner kebab made of thinly cut grilled meat with tomato sauce and some yogurt on its side. Obviously it is not a vegetarian or a vegan dish but in Community Kitchen it is made of vegan "meat" and yogurt so you wouldn't miss this delicious traditional dish. The restaurant has different menus from time to time and worths trying. For the address and details you can check their Facebook page: www.facebook.com/pages/Community-Kitchen/664151753675076
Parsifal Restaurant
A relaxing, cozy restaurant that is serving 100% vegetarian food since it was opened in 1996. You can find lots of options and the vegan dishes would easily be shown to you when you point that out.
Their Facebook page: www.facebook.com/pages/Parsifal-Vejetaryen-Restaurant-Cafe/97296706343
Kırık Tabak Ev Yemekleri
This is a little lunch time restaurant that serves home-cooked dishes, served and cooked by a team of ladies. It has dishes with meat too, but the plates you can create by picking some spoons of the vegetable dishes and fresh salads are mostly vegan and vegetarian.
You can check their website and see their adress and their menu: kiriktabak.com.tr
Other Options
Beside from restaurants here are the foods vegan and vegetarians can enjoy in the street or at their homes.
Fast Food
Çiğ Köfte places

Çiğ köfte which literally means raw meatball used to have raw meat inside but because of health regulations it contains no meet anymore. It is a dish of spicy bulgur balls with tomato sauce and red pepper paste. It is cheap, tasty and very easy to find. You can see Çiğ Köfte fast food restaurants anywhere in the city. And you can also have it rapped: Çiğ Köfte dürüm.
Kumpirci's

"Kumpir" is a big delicious baked potato that is carved and filled with side dishes like olives, corn, cheese, pickles and so on. Some side dishes include meat and animal products like cheese and butter. Do not forget to remind the one who is preparing your food not to add any butter, cheese or mayonnaise if you are vegan. You can find Kumpir easily too. The best place to eat it might be Ortaköy.
Street Food
Simit

Simit is the cheapest and most common street food in Istanbul. You can see a cart almost in every corner. This bagel like twisted sesame bread contains no meat and it is also vegan.
Cezerye - Lokum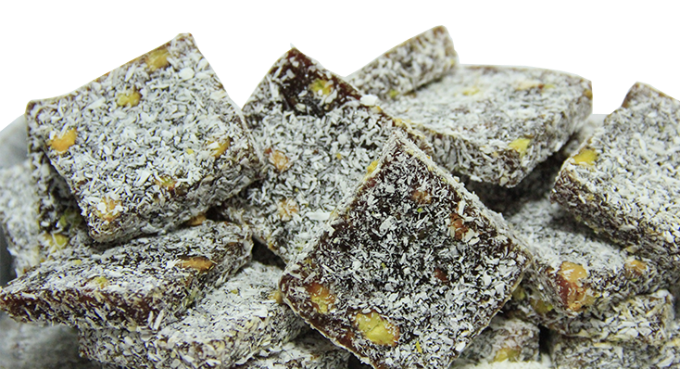 Cezerye is made from caramelized carrots and comes from the word "cezer" which means carrot in Arabic. It has nuts, pistachios and sometimes coconut or walnuts. ; It is a %100 vegan snack. And we wanted to add that there are vegan Turkish Delights (Lokum) too. You should ask for them.
Nohut Pilav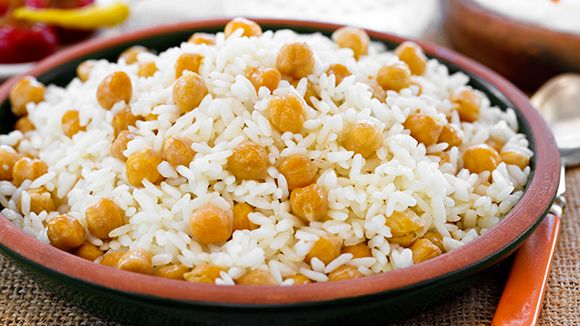 Nohut Pilav is a rice dish with chickpea. It is commonly cooked in restaurants or at homes, but it is also a street food sold in the carts outside. They also add some spicy pickled green peppers if you like. It is not vegan since a lot of butter is used to cook the rice.
Roasted Corn and Chestnut
The carts outside in the street has various other options. For example a paper bag of a roasted chestnut or a roasted or boiled corn can be a filling vegan snack. Do not forget to ask the seller not to butter your corn if you are a vegan.
Traditional Vegan Desserts
Almost all Turkish desserts have no meat inside except "Tavuk Göğsü" and "Kazan Dibi". They contain pieces of chicken. Some places and brands cook it without. Do not forget to ask if it has meat or not, before you eliminate them directly. Nearly every traditional Turkish dessert has milk and butter, but there are two exceptions: Aşure and Kabak Tatlısı
Kabak Tatlısı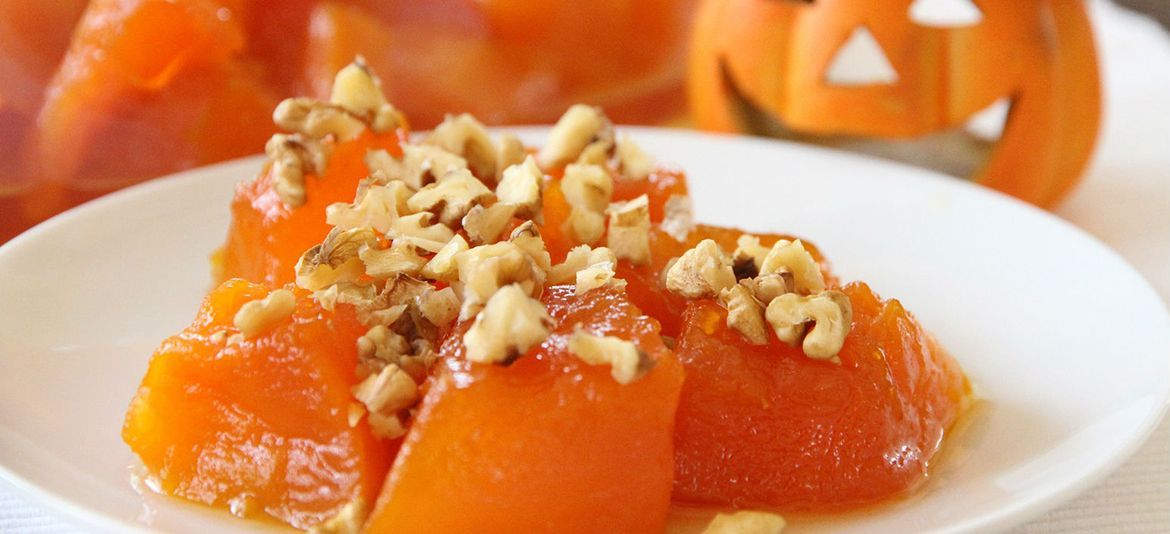 Kabak Tatlısı, Pumpkin Dessert is healthy, easy to make and vegan. There is no need to mention how it tastes but I will mention: It tastes very delicious. It can be served both cold and warm.
Aşure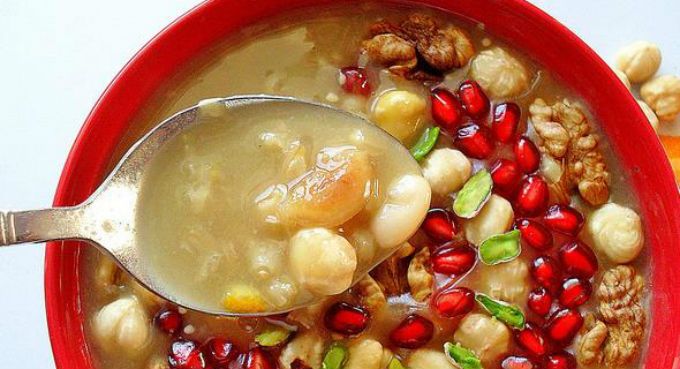 Aşure may be the most traditional dessert that cooked in the most homes at a certain day and offered to the neighbors. It contains wheat, rice, beans, chick peas, sugar, dried fruits and nuts. It is totally vegan.
Afiyet Olsun - Enjoy!
---
Leave a Comment
You can also write your personal comment with